Canedicoda and Virginia Genta, Camera magica, 2019
Metamorphic Balance
A live page by Virginia Genta and Canedicoda
Camera Magica is the encounter between Virginia Genta and Canedicoda. An imaginative, cozy and intimate exchange to be observed with serenity. A comforting environment populated by visions and dynamic elements scattered throughout the space. Virginia Genta's seemingly bidimensional graphic world and Canedicoda's tridimensional world will dwell in the large halls of Spazio Contemporanea from April 18th to May 4th, 2019. Placed in lines of contact and reciprocally dialoging, the universes of the two artists will expand, allowing visitors to penetrate into the material surface that encloses their imagination, navigating from one dimension to another. This page is a live witness of this event and will constantly be updated during its duration.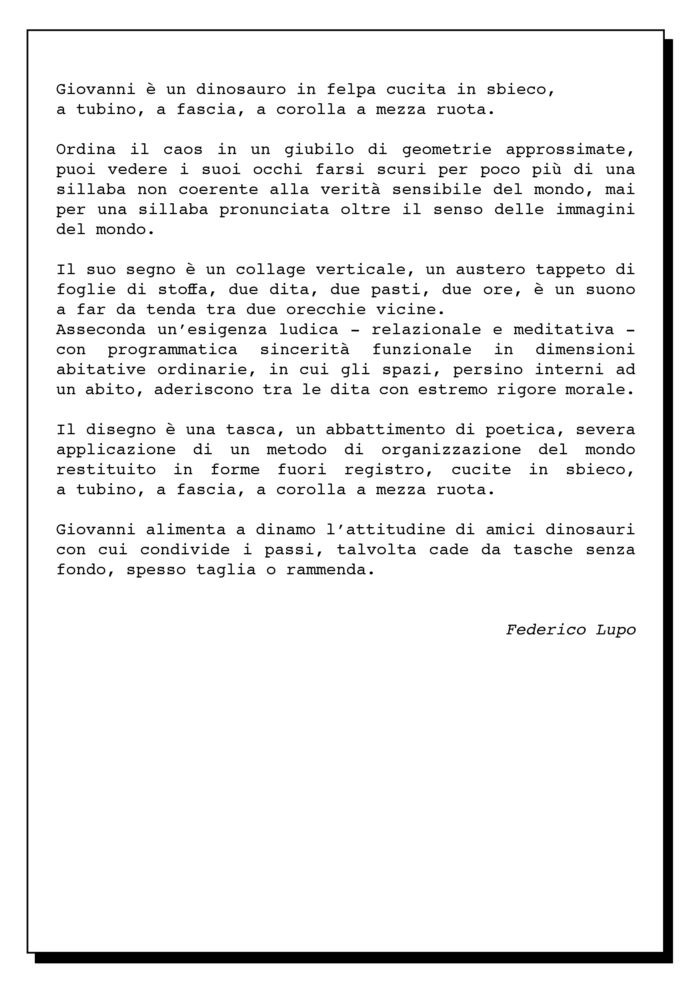 In Fact and In Fiction is a multidisciplinary project founded in 2014 by curator and designer Valentina Lucchetti together with primary school educator and anthropologist Irene Bianchetti. The project aims to favor the interaction of different languages ​​related to artistic and musical experimentation and creation. In Fact and In fiction is an itinerant entity that seeks to establish a connection between structurally and functionally different places. It develops, invents and organizes a series of events on the basis of the work of multiple artists. Through exhibitions, workshops and transdisciplinary actions, the participatory dimension of the public becomes a central element of the creative unfolding of the artists, shaping in this way the very process of artistic production.
Virginia Genta presents the visual work that has accompanied her musical career for years, and Canedicoda creates a new series of site specific Mochini, i.e. collages of wood and marble forming seats, stools and benches. A selection of graphic works, silkscreen printings, drawings, posters and tapestries  interacts with the Mochini. Loose objects reside throughout the space, glancing at the delicate and organic depictions on the walls. The drawings hold their place and communicate with the plastic and material representations, creating analogies in both directions.
Through an abstract/visual language, the works whisper iridescent stories creating an environment filled with sounds, voices and life in a metamorphic balance. A dense and noisy vision leading to an imaginative, chromatic and sonorous immersion. Visitors are invited to listen to the forms and explore their nuances, entering into the space in tune with Camera Magica.
"Virginia has always accompanied her freak-radical sound vocation with an intense and very personal research on the image, focused on graphics and artwork in the musical field and with an incredible talent in the manual creation of typographic characters. It is impossible to separate the unpredictable mixture of vibrations and frequencies of the sound of her saxophones, flutes and keyboards with the colorful and organic shapes of her drawings, graphics, silkscreens, posters. This feverish iconographic creativity could not even exist without that indissoluble relationship with her travelling around, that continuous life on the road, on the stages of half a world, which seems to make the multifaceted experience of Jooklo Duo the emblem of a real "psychedelic mission". Virginia's drawings, the universes of her unconscious, are therefore born from the intuitions and hallucinations of wandering moments, fixed in a personal notebook with a rigorous and meticulous play of points, lines and the proliferation of figures in amoeba forms. Her biomorphic lettering, pulsating with energy, and at the limit of legibility, her alchemical worlds inhabited by forms and microorganisms in continuous mutation and liquid dissolution, remind us, more than contemporary artists, of the golden age of London psychedelic graphics of the sixties, such as Martin Sharp and Mike McInnerney, when the poster was really an ideal channel of expression, an experimental platform for a ever new and dazzling creative outlet."—(source Andrea Maria Simoniello, Virginia Genta & Canedicoda: metamorfosi di una Camera Magica sotterranea, The New Noise.)
From the flat shape of Virginia Genta's sign, through the plasticity of Canedicoda's sculptural seats, the dialogue opens up to a third element that will accompany us in the closing of Camera Magica: Roberta Mosca's performative interpretation of the movement. The sound diffusion of an audio track recorded specifically for the occasion by Ottaven and Virginia Genta will guide the dancer towards an exploration of the environments and elements diffused in the rooms of Spazio Contemporanea. Share a moment of dynamic observation of the imaginative landscape of Camera Magica.
Roberta Mosca, choreographer, dancer, performer, studied and worked at the School of Dance Teatro alla Scala Milan, John Skull Schule Stuttgart, Vienna State Opera, Leipzig Opera, Aterballetto, Maggio Fiorentino, and danced for many years with the Frankfurt Ballet and The Forsythe Company. She has collaborated with international artists and dance groups including MAMAZA, mk, espz, KLM, Laurent Chétouane, Chris Newman, Yannis Mandafounis, Fabrice Mazliah, Martin Schick, Canedicoda. Together with other former dancers of The Forsythe Company Interested in the vital interrelation of human thought and action, she co-founded HOOD, a platform for creative exchange born of a need for a cohesive artistic community. Since 2003 she has been curating in Valle Cervo in the mountains of Biella, along with Cora Bos Kroese, Biarteca interdisciplinary festival. In 2015 in Valle Cervo, she opened the independent space AUTOBAHN – WILLIAM WILLHELM CAFFEE – DALLAS, as a crossway of possibilities between local economy and open creativity. Her work has been presented at Theatre de la Bastille Paris, HAU Berlin, Acker stadt palast Berlin, Tanzhaus Düsseldorf, Biennale Venezia, ADC Ginevra, Kampnagel Hamburg, Live Arts Week Bologna, UOVO Performing Art Festival Milano, Crisalide Forlì, Kaserne Basel, De Singel Antwerpen, Schauspielhaus Stuttgart, Kyoto University Art and Design, PACT Zollverein.
Canedicoda
is an artist, designer, performer, garment and furniture maker, silk-screen printer, and independent organizer.
Virginia Genta
is a visual artist and musician. Since 2004 she is active in the experimental underground scene as a saxophonist/multi-instrumentalist. Alongside her music endeavors, she has developed an ongoing visual research, focusing on graphics and artworks for the musical field and a strong interest toward the manual creation of typographic typefaces.