Italo Zuffi. Fronte e retro. Installation view at MAMbo – Museo d'Arte Moderna di Bologna, 2022. Photo Ornella De Carlo. Courtesy Istituzione Bologna Musei.
The Tell-Tale Counterpoint
Italo Zuffi considered afresh
Curated by Lorenzo Balbi and Davide Ferri, Fronte e retro (Front & Back) is the title of Italo Zuffi's solo exhibition, on view at MAMbo and Palazzo De' Toschi. The exhibition presents the work of one of the most important Italian artists born in the late sixties. This text was written in spring 2022.
In my Frankenstein-Draculean hotel, the bed collapsed, I've put the mattress on the floor, someone is watching the F1 training sessions in Bahrain—in the hotel, or outside, the windows opened? On the revved up TV, cars sore through the sky, the hotel walls are trembling. In the streets of Bologna, late afternoon shoppers give way to fiery protestors, two friendly police officers point me to the Pasolini exhibition-in-town, his birth commemoration—what would P. say today on the war in Ukraine, continuing world injustice, the prospects of Italian youth, their education geared towards the Moloch of Capital?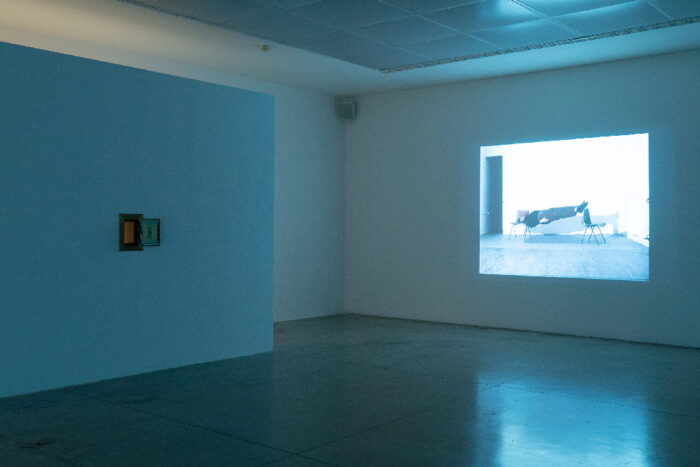 The world is a pandemonium. A peaceful painting hangs in my room, the hotel has a lot of art, endless corridors adorned with genre pictures: portraits, natural scenes, sights of Italian towns. Around the corner are two large works in grisaille, Cain is slaying Abel, then he watches the result of his dreadful act. "How I wish you were here" sings the guitarist in the square—is he thinking of Pasolini? I still have a hard time imagining the poet dead, so alive and piercing did he articulate his thoughts.
This afternoon I visited Italo Zuffi's exhibition. And all that's happening around me now, or that I think of in my room, suddenly strikes me as so transient, when compared to his works, their fecund tranquillity.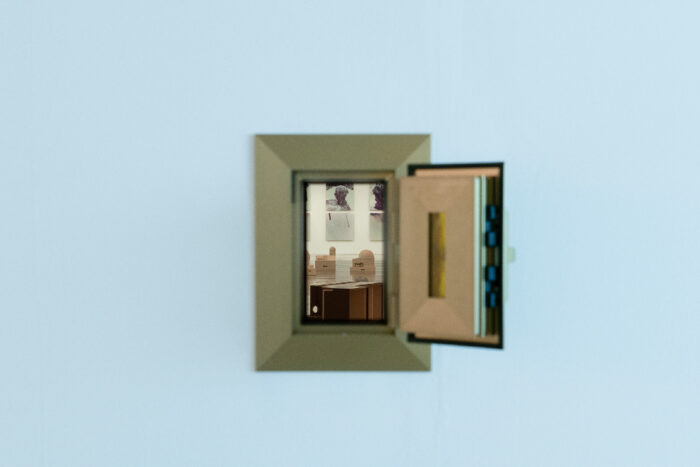 Zuffi's oeuvre charts the liminal territory, the space between event and dream. Individual pieces cast fine sparks, I relate them to subliminal forces, and crystalline apparitions. Central to his works is, often, a gesture/movement expressing human longing, our vulnerability. Some gestures/movements come from daily occurrences, others are permutations of a thought. His work advances notions of Conceptual Embodiment and Interiorized Performance. Zuffi has realized many live performances, alone, and through others. On top of this, he has been teaching many courses and workshops, both as a lecturer and a visiting artist, in performance art. This experience inspires all his art. In contrast to the external orientation of the 1970s body artists, e.g. in their acting out of intense emotions, with Zuffi we observe a withdrawing manoeuvre. The artist fathoms inner states.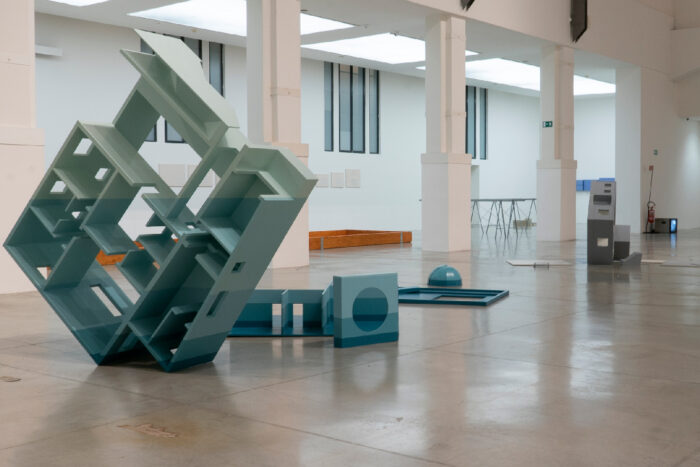 Zuffi's works carry with them discrete thoughts about transformation, whether it concerns his sculptures, live actions, text pieces or others. In an essay on Claude Lévi-Strauss, The Anthropologist as Hero (1963), Susan Sontag refers a certain tradition in thought and sensibility, the French or Latin cult of aloofness: l'esprit géometrique. Here, the formula is a mixture of pathos and coldness (and cool). The work of Luciano Fabro could be situated in that tradition—that of Zuffi as well.
His production comprises many strands. Two iterations gauge the force fields of human existence, where bodies come into being (construction) or where they fall apart (destruction). Project for a Barricade (2002) is a compelling work with beatific undertones, it outlines the possibility for a collective. In a room lit by strong red light, several groups of photographs show four young persons who seem to grow closer, forming a bond, even a band—new beginnings. The word "beginning" is crucial, many of Zuffi's works epitomize this: Window A4 (2002-05), installed in a small opening in one museum wall, gives us a view of an exhibition room and his works as if they were miniatures. Windy Day (2001-2005) consists of four wooden forms arranged on the floor, in a pattern resonating with an event that the artist once observed in the service area of a fruit warehouse, where large plastic crates were piled up, when some of these crates were suddenly overturned by a strong wind, creating a lyrical take-off.
The theme of destruction is addressed by Transportable Observatories with Hypotheses of Graffiti (1998), featuring a group of five models of astronomical observatories. Here the destruction is mostly symbolic, since the objects/forms are still intact, but the purity of the statuesque buildings has been ravaged and their integrity is compromised. Decompositions (1999-2000) is a series of architectonic models that sit on the floor in different stages of disintegration. Each of the Decompositions is, again, a building with the cupola of an astronomical observatory. An enigmatic disorder can also be apprehended in Strolling Manager (Utrecht), 2008, a ceramic relief of a fantastical façade. Each of the four panels was meticulously "copied" and reproduced—through exact measuring, sketches, and modeling directly in clay—of existing surfaces of several buildings in Utrecht. The idea for the work came to the artist when he saw chewing gums on the walls of a historical edifice and began to think which gesture had transported it there. It must have been around then that he got the idea of a businessman caught in an irreverential act. Zuffi transposed the chewing gum into colorful pebbles, integrating them into his four wall segments. The resulting façade is a sublime emanation.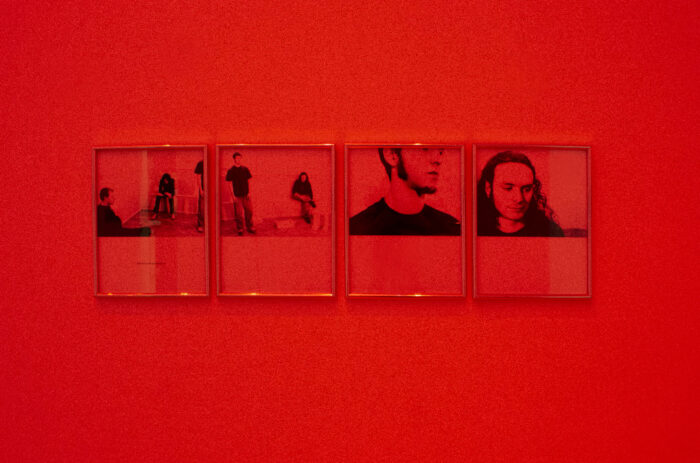 Various pieces from Zuffi's middle period refer to incidents which have shaped the artist's career, for good or worse. Sharing sensitive information, they reveal the tainting of Zuffi the artist, trouble in the professional domain, encroachment on his stature, his precarity. These works reflect "missed encounters with the art world": the falling out with patrons, dejection, or even slur (I Defended Your Honor, 2010). I will call this corpus Zuffi's Fleurs du Mal…
The state of neat disorder, which can be observed in the Observatories and the Decompositions, connects with early photographs in color, depicting found objects (e.g. a stool) arranged high on the ceiling. Amazing, how harmonious the simple things sit in their place. Here, a studied anarchy results in visual poetry (Silent Anarchy is the title of Luca Cerizza's essay in the artist's publication The Mystery Boy). These photos reveal Zuffi's heavenly aspirations. They make me feel his lightness, a natural connection to spheres of thought and reverie—even when he is pursuing a grounded course, for instance when he turns his body weight into 74 kg of sand, which is put on the floor, in a corner (Corner gravity, 1997-2022), I sense the pull of that tendency.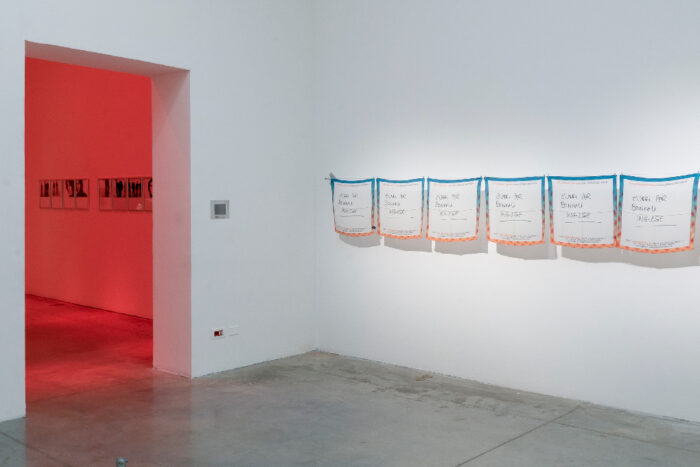 On Sunday, 20 March 2022, I visit the artist in his studio in Milan. He explains his works-in-progress. We eat ice cream, talk about poets, and it turns out that he is enraptured by Dmitri Prigov, the poet/artist who began his activity in the 1960s and was a key figure in shaping Moscow Conceptualism in the 1980s, very active up to his death in 2007. Zuffi plays a track from a CD with P.'s poem cycle The Apotheosis of the Militiaman (1978), an anarchist incantation. Understanding some Russian, Zuffi listens in silence.
The works-in-progress suggest where we can situate the artist. One work uses ceramic pods punctured by holes, evoking musical instruments (Those who are not aware, 2015-2022). In fact the pods are accompanied, in their installation, by a recorded track of multiple "whistling attempts", as if each pod were animated and emitted a sound. Getting civilized (2022) is the second work. Several plates, shown as an installation as well, are engraved with words of wisdom, they could refer to (self-)knowledge acquired over time—one example: Si cucina il pasto/Mastica lentamente il cibo/Si sta civilizzando (He/She prepares the meal / He/She chews the food slowly / He/She is getting civilized).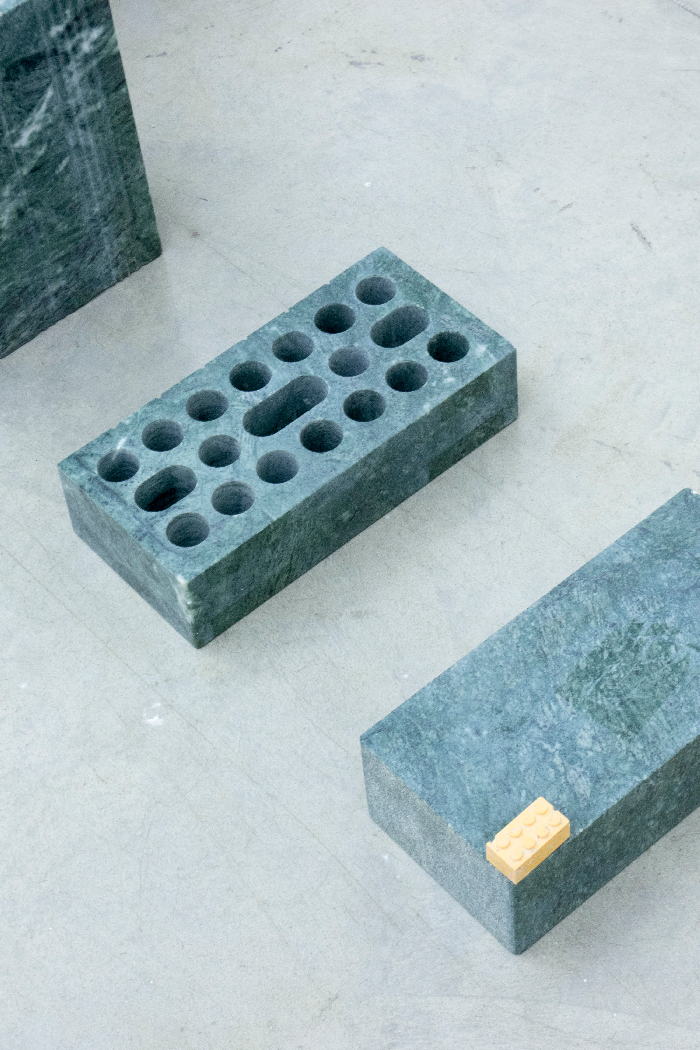 Those two works form each other's mirror. The colored pods suggest they are instruments, to be played by us (Those who are not aware). But we, we ourselves are instruments as well (Getting civilized). Every day we're being played or wielded by external forces, and we endure. The plates and their poignant phrases evoke the notion of the Contemporary Initiation, a painful process that should lead to new awareness… The ceramic pods weigh lighter, their presence being accompanied by the soft whistling sounds. Here it is, as though the artist is turning himself on, getting quite excited, on his quest for euphoria. I see him whirling in silence.
Mark Kremer
is a curator and writer based in Amsterdam. In 2014-15 he curated the exhibition (among others)
When Elephants Come Marching In: Sixties' Echoes in Today's Art
at De Appel, Amsterdam. In 2019,  he wrote for Christiaan Bastiaans's
Valuable Cargo
', a live performance for Takamatsu, Japan. He's currently working on a book of 28 monographies titled
Show Me Your Beautiful Madness
(Jap Sam Books, Spring 2023).