Cinzia Ruggeri, Pensiero fisso, 2019 (detail). Photo OKNOstudio. Courtesy Casa Masaccio.
Wearable Puns
A short taxonomy of Cinzia Ruggeri's design
Cinzia Ruggeri (Milan 1942-2019) was an artist, fashion designer and furniture designer. After studying at the Accademia di Arti Applicate in Milan, an internship at the Atelier Carven in Paris and a collaboration with her father's clothing company Unimac spa (Vimodrone, Milan), at the beginning of the seventies she founded the company and brand Bloom, making her debut in Milan prêt-à-porter catwalks. She launched the Cinzia Ruggeri experimental line (1981) and the Cinzio menswear (1986), both characterized by irony and provocation. She retired from the fashion world at the end of the eighties and intensified her activity as interior designer ever since, collaborating with manufacturers and brands in Italy and abroad. This text stems from witnessing her work, on view at Casa Masaccio last Autumn.
In Cinzia Ruggeri's research, art, fashion and design were naturally intertwined. It all began with a solo exhibition of paintings held at the Galleria del Prisma in Milan (1960), accompanied by a fairy tale/presentation written by Dino Buzzati. The writer's fertile imagination had grasped the oneiric vein of Ruggeri's work, which would emerge forcefully over the following years in the design of clothes, objects and advertising images, in exhibitions' installations and in the staging of theatrical performances.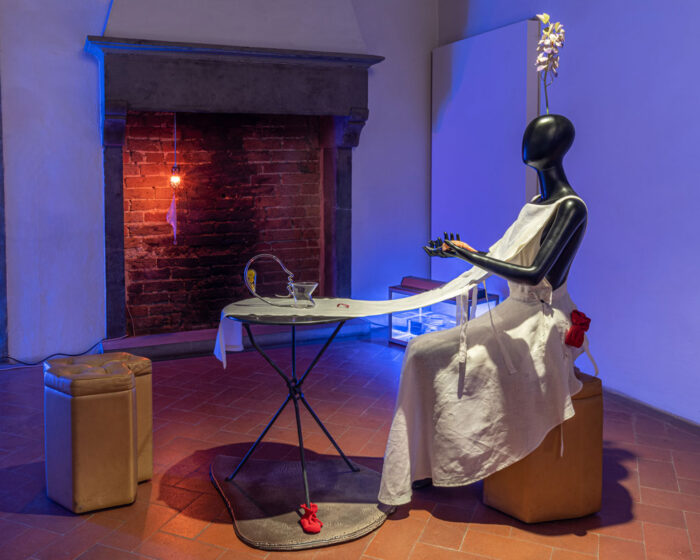 To reconstruct her design process means to enter—as it has been written several times since the 1980s—a Cabinet of Wonders, which is at the same time a room where "disciplines dissolve", as it has aptly been described by founder of Studio Alchimia Alessandro Guerriero, a friend and collaborator in several projects.
The presentation of her work in rooms of somebody's hypothetical home has been precisely the choice adopted in some of her recent solo exhibitions, including the latest Cinzia Ruggeri… so as not to stand still, curated by Rita Selvaggio. A solution that on the one hand enhances the designer's multimedia approach, but on the other tells about the intimate and private character of her projects. Each of them is infused with autobiographical traces, delightfully scattered here and there by their creator, never at random, as little puzzles that can be solved with the complicity of those who exercise their curiosity alike.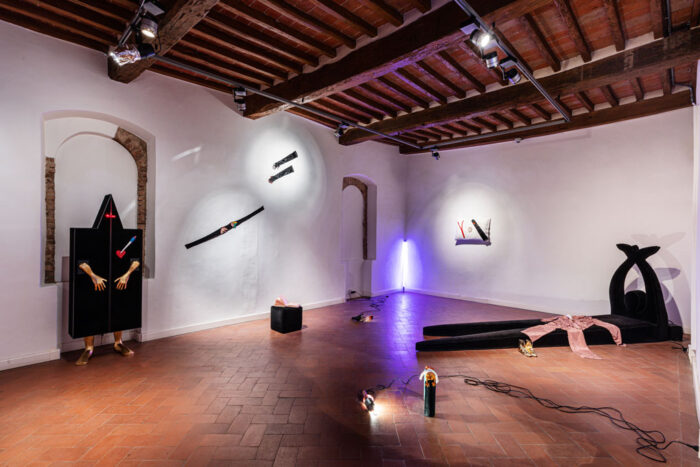 For this reason it can be intriguing to try to interpret Cinzia Ruggeri's work through a specific word, a name that encapsulates her vision of the world: scherzi. In Italian this is the plural of the noun scherzo, which means joke, pun but also the act of cracking a joke, i.e. saying and doing something while showing that you want to have fun by not giving words or things the meaning and weight they usually have.
Scherzi was also the name chosen by Ruggeri for her faithful little dog, which often inhabited the space of her projects dotted with Scottish terriers with oblique outlines, along with penguins in tails, sleepless sheep and pink piglets eating pearls in a mixture of a genuine love for animals and an equally authentic taste for irony and linguistic-visual divertissement.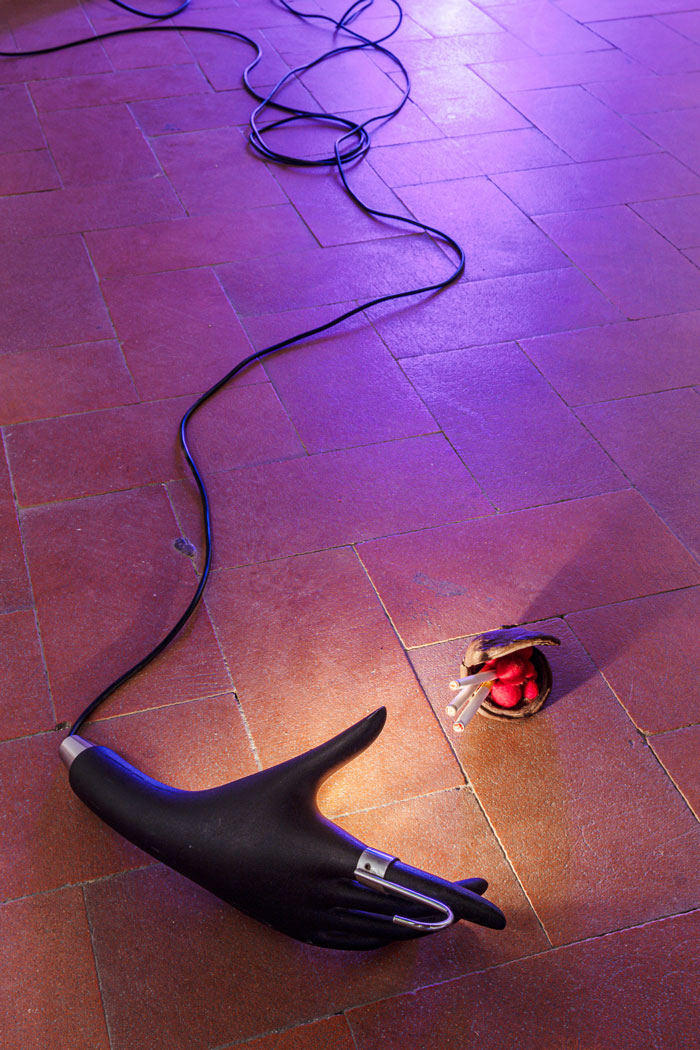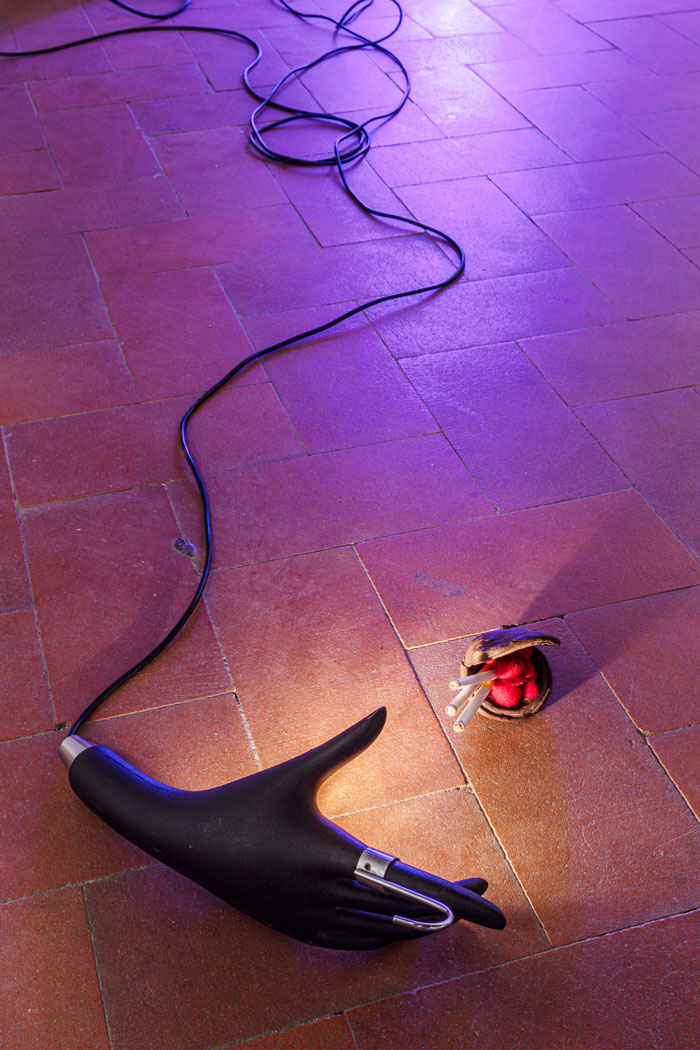 When the journalist Silvana Bernasconi in the pages of Vogue Italia asked her what animals represent in her life, the designer answered without hesitation—"my fiancés; and as Wittgenstein says, animals come when their names are called, just like human beings." [1]
Scherzi is a word that expresses Cinzia Ruggeri's approach to design, "romantic/intimist" and playful at once. It can serve as key to the interpretation of her private archives, and can be used as a guide to the words suggested by the letters of this name, Scherzi. A fascinating voyage in the sea of stories that has been left for us by a refined designer of wide-ranging vision.
S – spectacle
At the beginning of the 1980s, the stage of the Teatro di Porta Romana in Milan became the common experimental laboratory for two distinct projects of femininity, both of which sprang from reflection on the body and a vision of the avant-gardes: Cinzia Ruggeri's abiti comportamentali or "behavioural clothing" and Valeria Magli's poesia ballerina, "dancing poetry". In particular, the designer conceived scenery and costumes—true props for the performances Indications de jeu and Banana morbid, with texts by Nanni Balestrini and music by Erik Satie and John Cage respectively, and Banana lumière with music by Walter Marchetti and choreography by Valeria Magli, directed by Lorenzo Vitalone. To accompany the gestures of the actress-ballerina, in one case Ruggeri designed a champagne-coloured body stocking with a flowery meadow applied on one leg and a large crack in the ground on the bust, in the other a tunic of six coloured veils, intended to be assembled in front of the audience in a cerebral striptease in reverse. For Banana lumière, she made a black sheath dress with decorations that were activated by the artist Piero Fogliati's "fantastic lights".
The motif of the stairs on the tunic, plant applications and kinetic effects returned as symbols in the collections she created for the prêt-à-porter catwalks, confirming the contiguity of her research in different fields. "Whether we like it or not," declared Ruggeri, "clothing is the spectacle (always intentional) of ourselves." [2]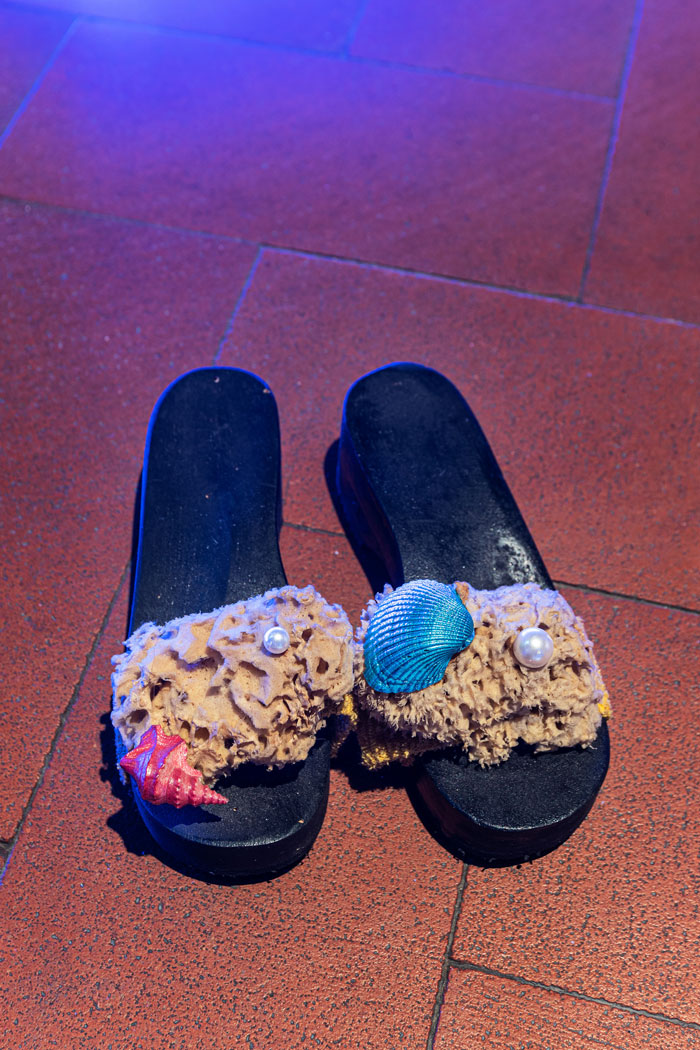 C – cooking
A passion for the kinds of food suggesting emotions and producing strong sensations, such as mustard, onions and chilli peppers, was always accompanied by an interest in the setting of the kitchen (she designed objects for housewives and ecru linen aprons for men with inlays of sausages and eggs), in the table laying (she designed household linen and her fashion shows were turned into gastronomic happenings) and, more generally, in rituals associated with food.
When, in an interview for Linea Italiana Giusi Ferré pointed out that cooking is an activity imposed on little girls, just like the colour pink of which the designer was so fond, Cinzia Ruggeri replied candidly: "I accept this with enthusiasm. I'm creative. Since I don't know recipes, I go beyond them. For instance, I can make a raw and cooked sauce in tribute to Lévi-Strauss. I'd comb the spaghetti coming out of the pot very tidy, lying flat like Lorelei's hair." [5]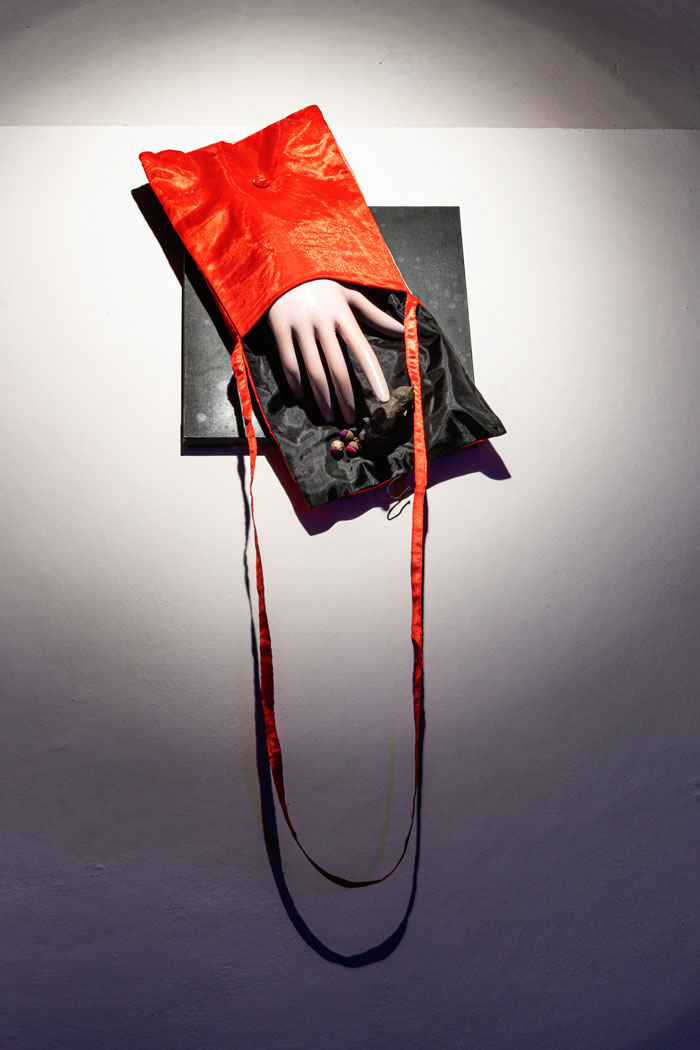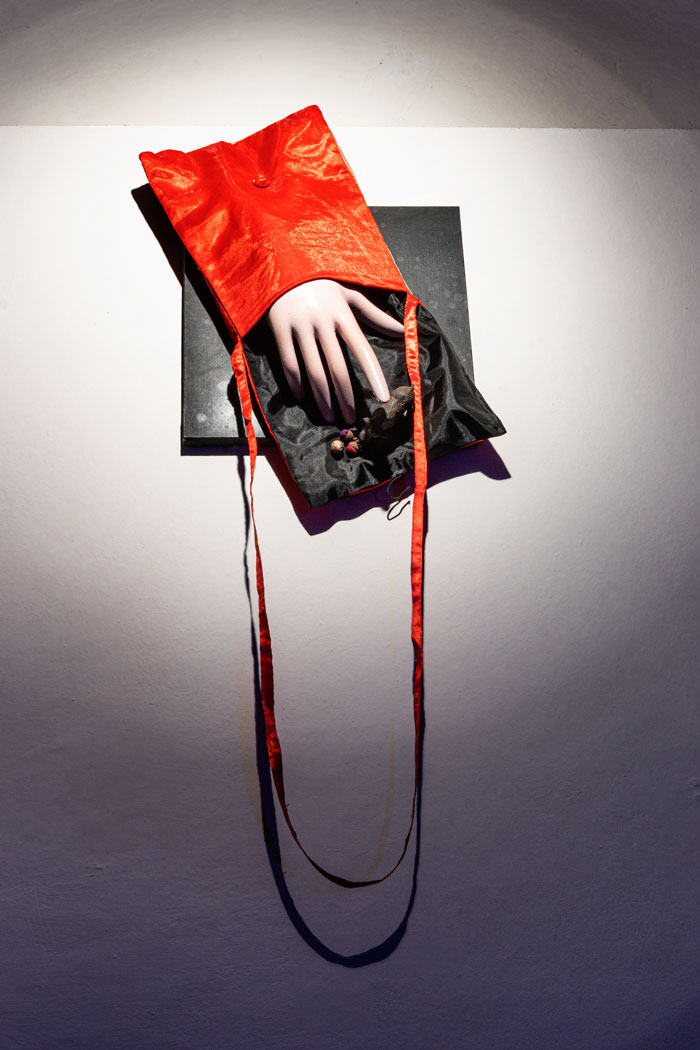 H – habitat
Who's in my bed? This is the intriguing title of a feature devoted to the beds designed by Cinzia Ruggeri and Alessandra Zighetti, published in Casa Vogue in 1988 with photographs by Occhiomagico. Ruggeri had previously worked as consultant for the magazine at the beginning of the 1980s, setting up different rooms of the house, starting with the entrance. For this occasion, she prepared eight tales for the night, by assembling pieces of furniture together with her creations, each accompanied by a very personal fable:
"Coming home from a ball at the British Embassy on Tuesday, I open the door slowly and the king, the queen, Humpty Dumpty and Huysmans's turtle are playing golf on my bed. Wednesday, on my return from a visit to a Greek friend (how we laughed!) I find a big and a small TVs turned on under the blankets. Back from Fontainebleau on Thursday, in my bed there's a grandmother disguised as a wolf (or perhaps the opposite? It doesn't matter). On Friday—after dinner with friends from Alsace—I find those three little pigs who have brazenly made themselves comfortable. Who's afraid of the big bad wolf? Returning from Bologna on the next evening, I grope all the way into the bedroom: the vacuum cleaner and the pasta machine hugging each other between my sheets and he, with his long arm, sucking up all her tagliatelle. On Sunday, I come home and find Professor Pi knackered, prostrated and crushed. Sometimes counting sheep is not good for you. The day after Sunday, I pay a visit to the Natural History Museum; when I get home I can't believe my eyes: if it weren't for that loving expression…" [3]
E – emotion
Cinzia Ruggeri's multimedia research can legitimately be given a place in the composite jumble of the Postmodern, and she is celebrated among the symbolic figures of that period, both for the subversive character of her designs and as the embodiment of an intellectual and sophisticated fashion that claimed femininity as the right to show emotions.
Her collections for Bloom and for the avant-garde line that bore her name reflected her propensity for experimentation and the pleasure of applying technological research into forms and materials: liquid crystals applied to fabric changing colour with the body temperature, kinetic decorations activated under polarized light, or luminous LEDs among the flounces of an evening gown that could be lit up with a gesture.
In addition to clothing, both to dress bodies and manifest feelings, with the same coherence over the years Ruggeri extended her research to the domestic setting. The Schatzi mirror (1997) has articulated arms to hold objects when consolation is needed, her much-loved chaise longue Colombra (ca. 1990) is able to project a shadow in the shape of a dove onto the walls; the Eva's Family series (2005) can count on an elegant hand-shaped lamp and hand-shaped shower, but only female hands, because—as the designer declared—"it's important not to make a fuss out of being women." [4]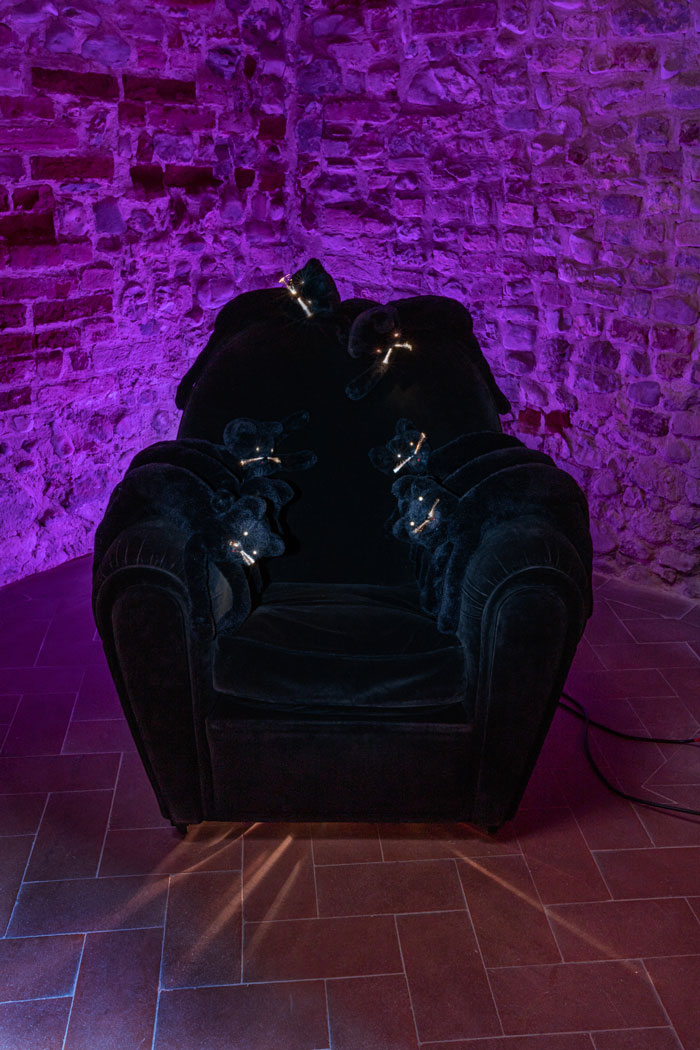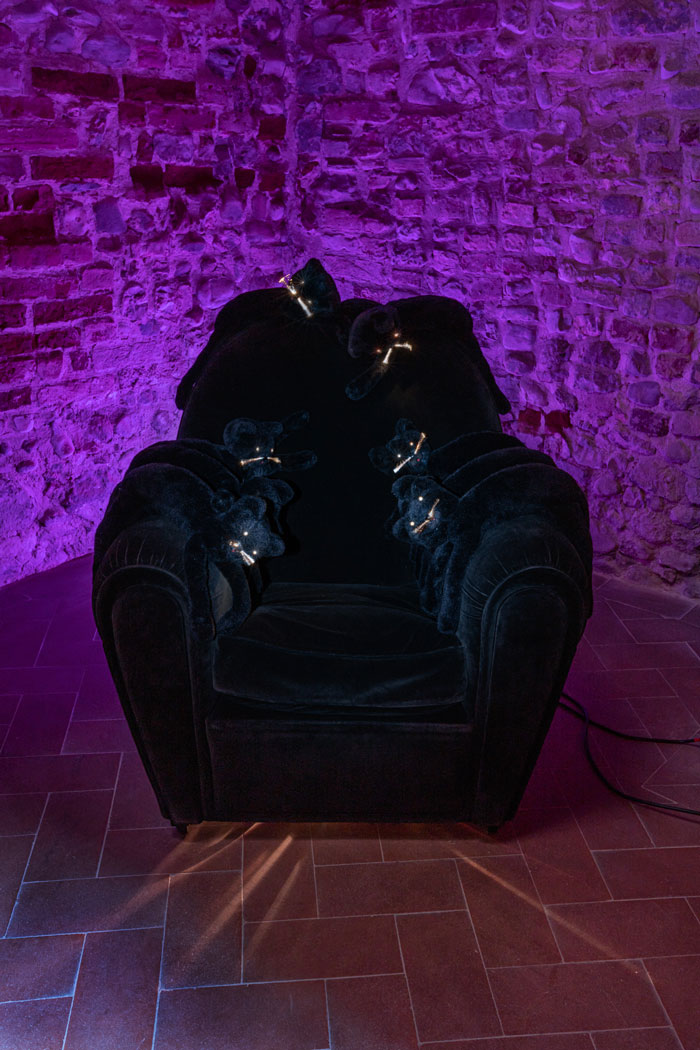 R – rebus
In her designs, Cinzia Ruggeri liked to scatter autobiographical traces (for instance about her beloved Venice), her passions (the egg above all), her beloved (animals) and her many literary encounters.
At times she created proper rebuses, as in the case of the album Aristocratica (1984) by Matia Bazar, a techno-pop band whose image was curated by the designer, at an intellectual shift in their career. She played with the lyrics of their songs, encircling some words with a small green crest. Only real curious fans were able to discover the message hidden on the album sleeve: il dado / senza / sale / sopra il / gelato / caldo / orienta / la mosca / insidiosa / con / logica attenuante (the nut / without / salt / above the / warm / ice cream / orients / the insidious / fly / with / mitigating logic).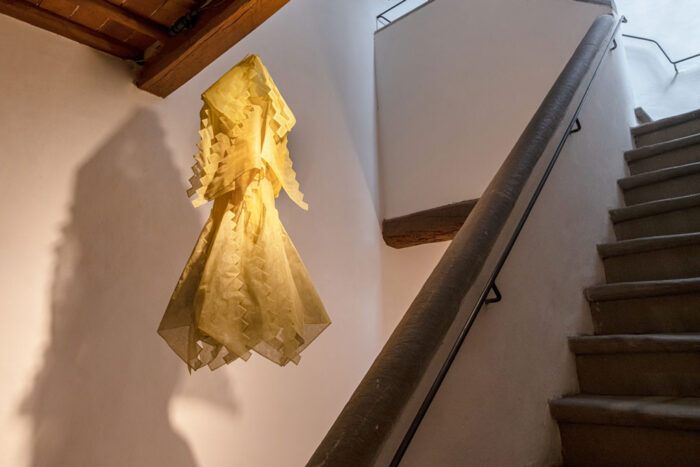 Z – zigzag
Two-dimensional and three-dimensional stairways insistently returned on her clothes, shoes and accessories, as well as in her furniture and objects. Even Cinzia Ruggeri's writing paper had a dynamic zig-zag profile. The Homage to Lévi-Strauss Collection A/W 1983-84, now kept at the Victoria & Albert Museum in London, is certainly one of her best-known creations. It is a heavy green satin dress with a ladder-shaped panel on the skirt and a steps-shaped collar, elements meant to turn those who wore them into mysterious creatures. A dress with a double meaning that titillates the game of courtship and conquest, both for those going up and those going down.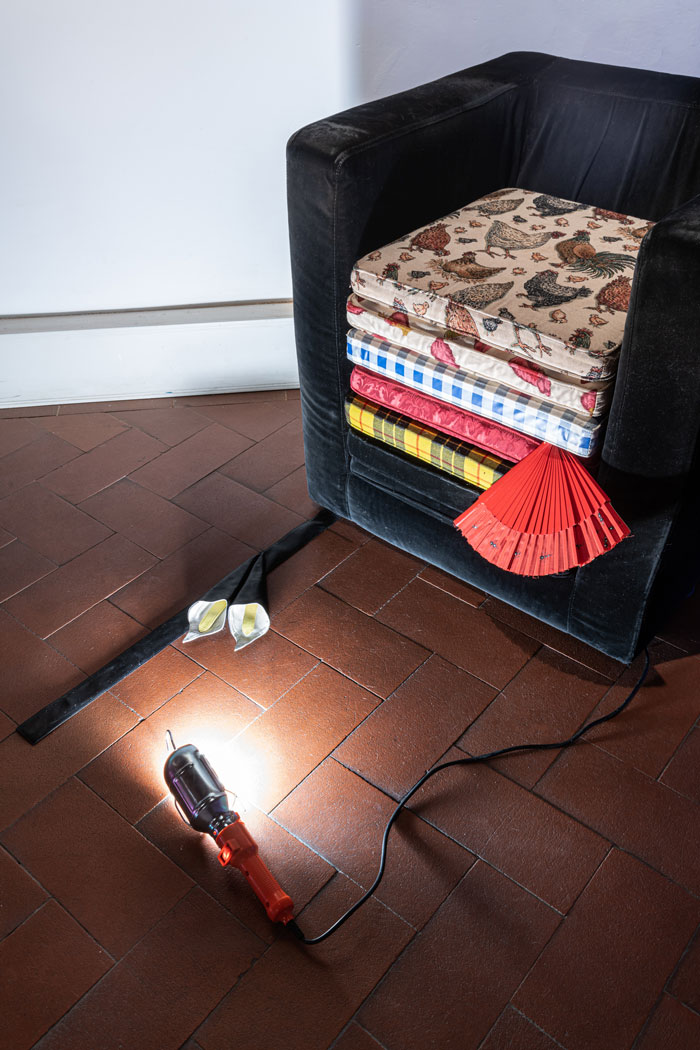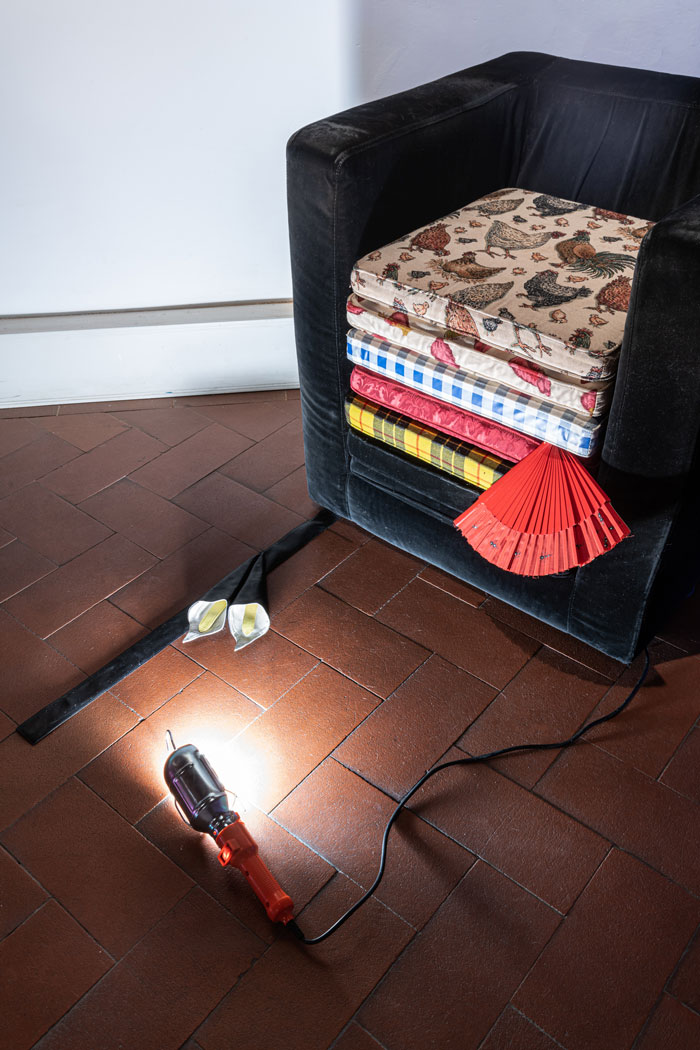 I – irony
Irony is the keystone of Cinzia Ruggeri's work. A sophisticated and cerebral irony that demands a reaction, actuates correspondences or simply stirs a feeling of curiosity in the viewer. To address Alessandro Mendini's "some fixed points" the designer came up with this half-serious list:
"the project of the garage bridge over the Seine designed by Melnikov in 1925… Licini's picture 'Bilico' of 1934… the forms of box hedges… the paper with printing errors spat out by paper mills into rivers… Piero della Francesca's portrait of the duke of Urbino… the cement mixer turning on the lorry… abnormalities… scree, landslides, gullies, octopuses, the Atlantic Wall and the Maginot Line… the Citroën DS and Citroën corrugated-metal van… earlobes seen too as skewers… crossing, understood as the word that can most easily be formalized… every uncommon image… light filtering through dense trees in the woods, the light that passes through the rolling shutter whose beams are given substance by dust…" [5]
[1] S. Bernasconi, "Lo zoo della moda", Vogue Italia, n. 378-379, 1981, pp. 314-317, p. 316.
[2] Nuove tendenze italiane nella creazioni di immagini, Venezia, Palazzo Fortuny, 12-17 dicembre 1983, typescript, s.p.
[3] G. Ferré, "Cinzia Ruggeri: tenera, silenziosa e anche un po' bizzarra", Linea Italiana, n. 164, 1985, p. 69.
[4] "Chi è entrato nel mio letto?", Casa Vogue, n. 196, 1988, pp. 228-235, p. 228.
[5] E. Muritti, "Alice nel paese delle post-meraviglie", Elle, giugno 1998, pp. 54-57, p. 57.
[6] A. Mendini, "La 'nuova moda' di Cinzia Ruggeri", Vogue Italia, n. 392, 1982, p. 280-281, p. 280.
Elena Fava
is a research fellow (PRIDE.IT workshop, IR.IDE infrastructure) and adjunct professor in the degree course in Fashion Design and Multimedia Arts at the IUAV University in Venice. She has a PhD in Art History and collaborates on exhibition projects with the CSAC (Centro Studi e Archivio della Comunicazione) at the University of Parma. Her research focuses on archives, the phenomenon of Made in Italy and the relation between fashion and design culture.