Marcin Rusak, Flora Collection, Process. Courtesy Marcin Rusak Studio.
Life Beyond Decay
Marcin Rusak in conversation with Barbara Brondi and Marco Rainò
This interview is an excerpt from the publication Marcin Rusak: Encoded Symbols, edited by Barbara Brondi & Marco Rainò. The book is dedicated to the work of Marcin Rusak, as part of a series of monographs on the thought and work of young contemporary designers. Beside testing new channels of preferential relationship between art and science as well as between artisanal and industrial manufacturing processes, the Polish designer is known for having contributed to the invention of formulas useful for accelerating or arresting the deterioration of organic floral matter; through the development of an absolutely original expressive language, Rusak's projects lead to unexpected results and material experiments, where a vital proliferation turns into deadly corruption and vice versa.
Barbara Brondi & Marco Rainò: How would you describe, in summary, your design approach? What goals does your research have?
Marcin Rusak: My practice is oriented around the ideas of ephemerality, decay, preservation and consumption. We research common processes and materials and manipulate them in order to show their potential in a different light. This could be an object that needs human attention in order to live or a material that gains longevity by evolution of its aesthetic qualities.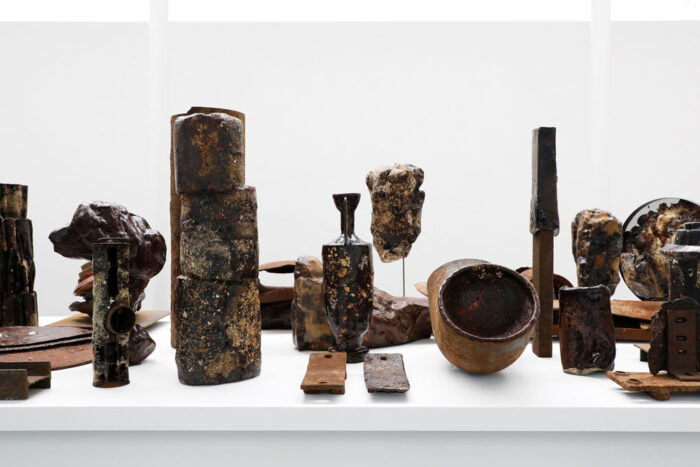 Is the process by which you realize your projects organized according to a recurring method or does it take on different connotations from time to time?
I would say there are methods in all the processes we work with, but I don't think they are organized by any methodology. There is definitely a path or a thread that connects the works, which might be my personal interest in ideas of decay, ephemerality and personification of objects. The projects we undertake are mostly self-initiated. We simultaneously research several ideas around the concepts we are interested in, and most of the processes keep revealing their potential in quite unexpected moments. We then try to incorporate some of them in projects on which we are currently working.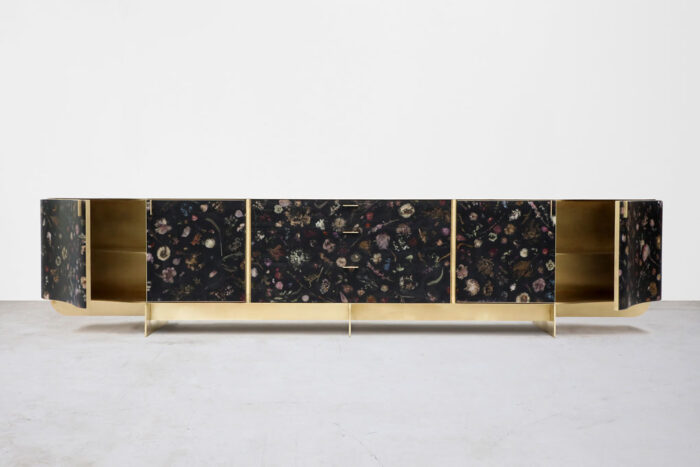 Your creative thinking is prompted by stimuli and knowledge that belong both to the world of art and to that of science. How do you try to connect these two disciplines?
I think this comes quite organically. We research fairly well known processes in industrial manufacturing or biology. Often if you want to find something new, you quickly realize that help from an expert is crucial. I personally enjoy this aspect of the process a lot. Unexpected things happen when other enthusiasts come in and begin to change your perception, and encourage new ideas.
Do you have other sources of inspiration that you consider crucial to better define the identity of your poetics?
It took me years to realize that my inspiration comes often from within. I was raised until I was 14 around the post-industrial landscape of an abandoned flower production facility. The memory of weeds, decayed plants, dry soil, the architecture of the abandoned machinery, was something that helped me understand the foundations for my present interests. It became a great source of inspiration, that won't expire any time soon since it evolves with me and my growing interest in different creative disciplines. It almost feels as if my future is catching up with my past, and the consumer culture we live in seems to be seeking a contradictory world of decay, where we need to protect the objects we value.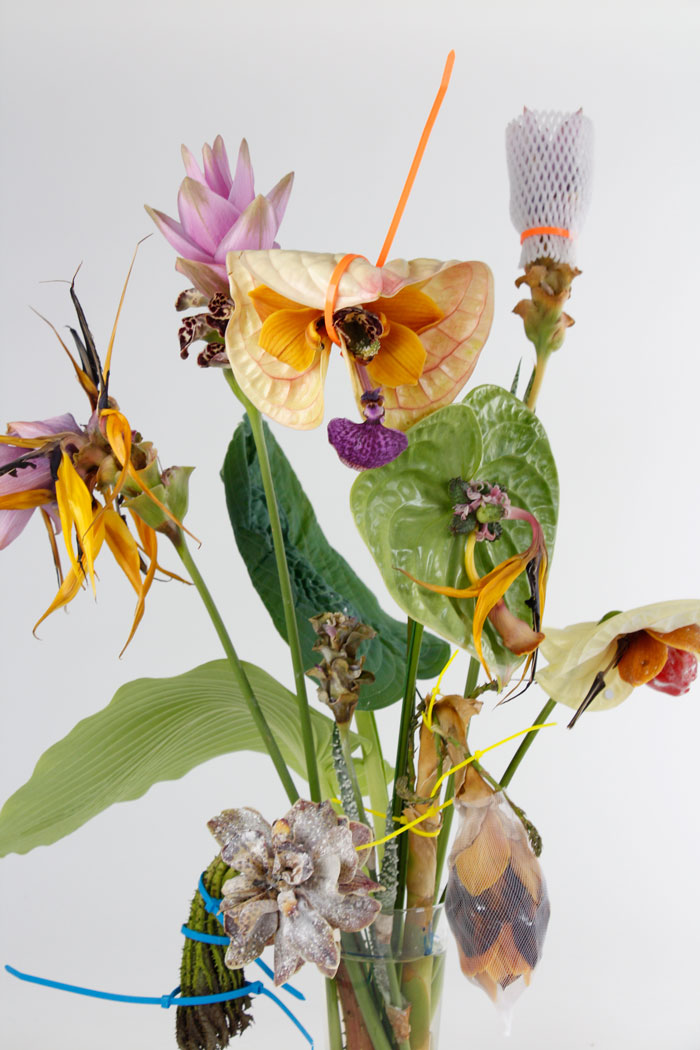 The special attention you have towards floral material has deep roots in the history of your family: even if in an absolutely original way and with completely different results, most of the projects you have created give continuity to a tradition that has involved several generations of your ancestors. Can you tell us something more about this family story? What is the value of this legacy—even affective—in relation to your personal creative path?
I wasn't aware of the importance of my family history until I was 26. This was the time in which I was studying for my masters degree at the Royal College of Art, and I encountered amazing people around me who helped me realize that what I currently work on has everything to do with who I am and where I came from. My grandfather and his father had a flower growing facility in Warsaw, Poland that started in 1900. For various reasons the family business shut down around the time of my birth, but my family home remained surrounded by the greenhouses and a beautiful garden of 2000 species of plants. My everyday environment was therefore a post-industrial variation of such landscape. My youth had nothing to do with the romantic notion of growing up surrounded by fields of flowers. Twenty something years later, while conducting research for my first project at the Royal College of Art, I became interested in decoration inspired by nature. We had to investigate a personal object, our relationship with it, and to build upon that discovery. I subconsciously chose a 16th century cabinet that belonged to my grandfather. It was wooden, fully carved in floral and seasonal motifs. It became the starting point. From there I began to research the origins of decoration inspired by nature, and to look into how it affects us—the users, keepers and guardians of objects. The tradition of floral motifs in decoration is as old as the first works in porcelain. However, I felt there was something more interesting in creating decoration that would be ephemeral and therefore could enable me to create more unique objects. Objects that require deeper attention and would encourage a more significant bond with their guardians.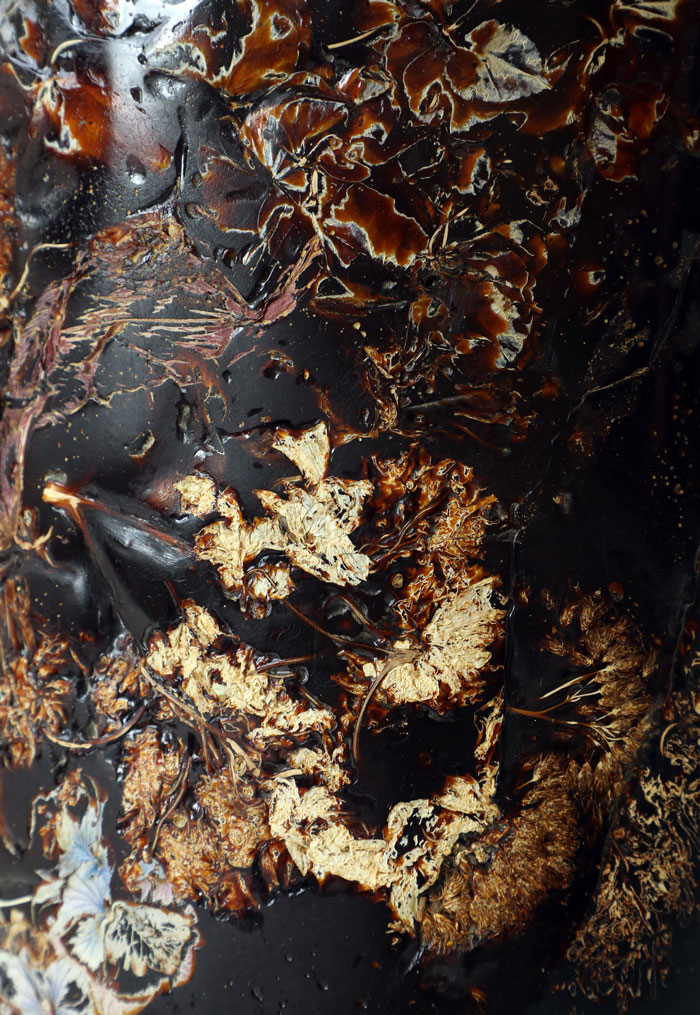 Many of your works concern the antithetical concepts of conservation and decay of matter: is there a particular, specific reflection on the time factor and its passing that you have developed and would like to express through your works?
Through my work and studies in natural materials, I came to the conclusion that it is the temporary objects that decay that we come to value the most. What is more desirable—a perishable object with which we develop a short, intense and truly personal relationship, or something that lasts until we begin to lose interest? Furthermore, objects that don't last usually share another quality—they transform. They have the power of keeping us interested in their evolution. The change becomes unanimous to their presence and reflects the nature of our lives in which progress and transformation are both unavoidable and desirable.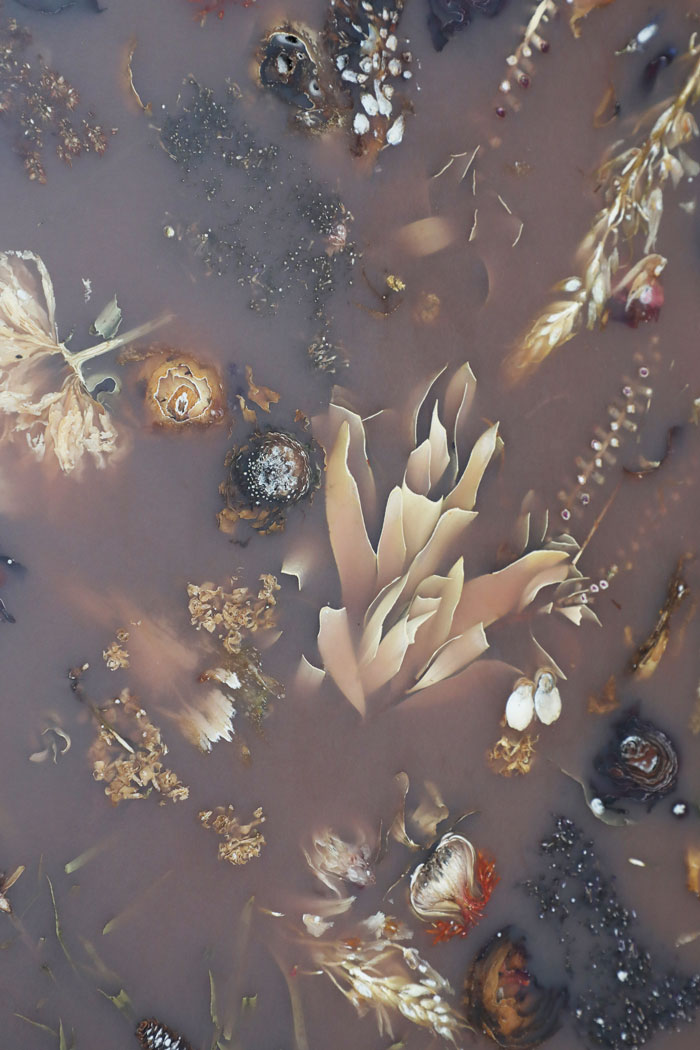 Vanitas and memento mori are two classic warnings regarding the ephemeral condition of existence: in your work they seem to recur often, as useful elements to expand some awareness connected to the concepts of transience and impermanence, but also to trigger your personal reflection on the consumer society. Can you tell us more about it?
I come from a post-communist country in which capitalism and consumerism are celebrated as the symbol of the end of an era of oppression. Since 1989, Poland has done an incredible amount of work in redeveloping its economy and becoming a democratic country. It comes with a cost and that is our obsession with things and the so-called «comforts» of life. We quickly replaced man-made with industrially-made, things that were produced quickly and affordably but not necessarily meant to last. Rather, they were meant to break and be replaced with something new, as it was convenient and profitable. It fueled the economy. Obviously this is a global issue of capitalism, but it especially saddens me as a Pole, since not long ago we were a country of inventive and resourceful people who were not afraid to think differently. Through working with evolving and decaying objects, I aimed to break the habit of creating new things for the sake of production and profit. I wanted to focus on objects that have a shelf life and are capable of building a strong relationship with the user. In some ways it is similar to an artwork that plays on our emotions, rather than being a necessity or fulfilling a given function. The beginnings revolved around creating alternatives to everyday, industrially made objects, but today I know I am not an industrial designer and I prefer to create work that speaks about these concepts in a more personal, poetic way.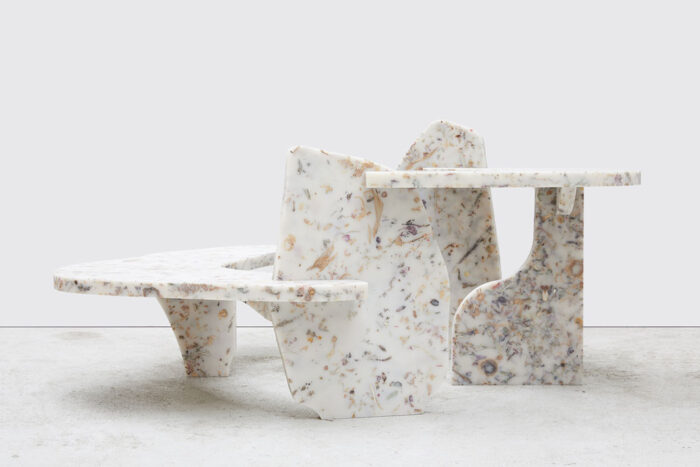 The figurative representation of the infinite forms of the plant kingdom is one of the central topics in the history of decoration; with the use of techniques that include real natural elements in the objects you create, you have formulated a new ornamental paradigm. Are you interested in expressing yourself on this specific topic? And again: can the aesthetic value of a decoration be considered a functional attribute?
This is a question that is very present in my life and in my thinking about objects. Research in decoration has also led me to many new aspects of my practice, which is therefore deeply rooted in the subject. The work where I use plants and natural organisms carries a meaning on both the aesthetic and the conceptual level. I think of these natural materials as media to talk about the importance of nature in our lives, but also the meaningless consumption that follows trends and irresponsible habits of replacing over maintaining. Regarding the aesthetic aspect, I was always interested in that paradigm. Creating a language, a certain aesthetic of decay as a valuable aspect for the works to exist in the first place. Visualizing that decay, we can behold a certain type of beauty connected to transformation, and make a break with the common sense notion that what decays needs to be replaced, thrown away. In that sense the aesthetic becomes a function.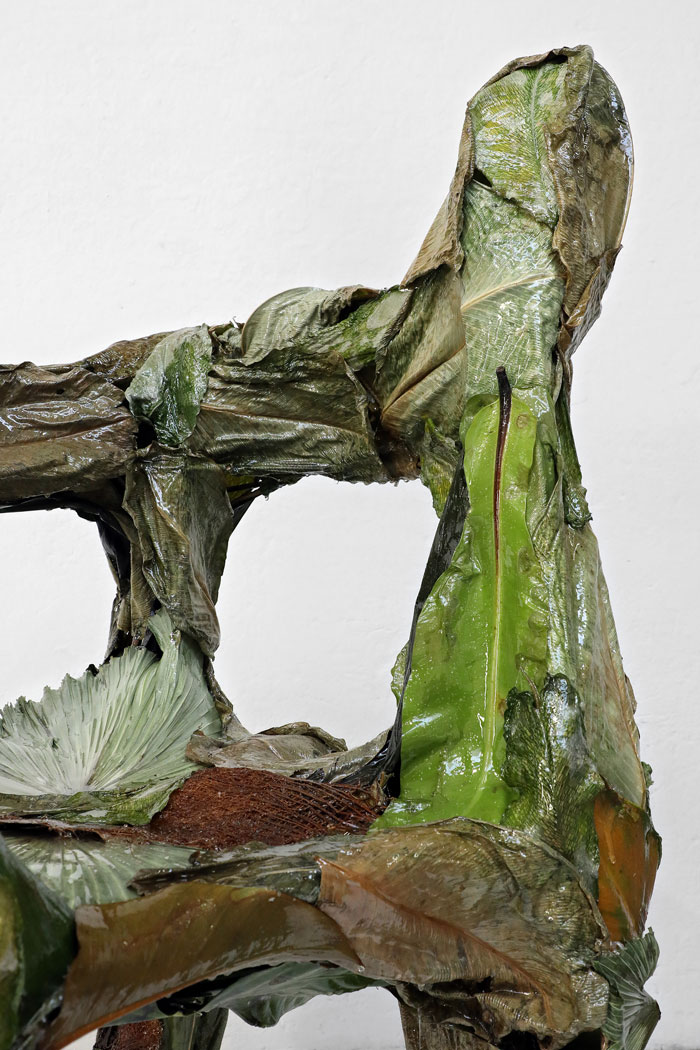 In your work there is a constant reflection on the ways of evolution of biological systems, on those that happen naturally, but also on those artificially imposed by man. What fascinates you in these different transformation processes?
Manipulation of these processes and biological systems gives you really incredible and unexpected results. You only need to navigate the transformation by adding and subtracting components and variables. We spend a lot of time observing these changes, documenting them.
I think the element of discovery, the unplanned and accidental, is what keeps me interested. You cannot come up with these results in your head, you cannot draw them or even repeat them in exactly the same way. It is comparable to alchemy, in my opinion.
Marcin Rusak
is a multidisciplinary designer (Poland, 1987) based between London and Warsaw, interested in developing research on cultural values based on reflections on the concept of the ephemeral, specializing in the invention and development of complex narrative projects and processes that lead to the production of original artifacts. Heir to a family of floriculturists, he is fascinated by natural sources of inspiration and decoration, as the central focus of works that reflect painstaking investigation of aesthetics and materials.
Barbara Brondi & Marco Rainò
are the creators and curators of the
IN Residence program
, a platform interested in experimentation through design practice, theoretical research and critical-curatorial thinking. Both architects, they are the founders of
BRH+
, a design studio that focus on the development of an investigation and a practice derived from the dialogue between multiple disciplines.