Twelve Days
Fragments of impressions from the Initiative di II
This spring a group of young artists and curators gave birth to Iniziative di II, twelve days of performance taking place in Rome from May 8th to 19th, spread around the public space. Their intent, along with the group of artists who took part in the project, was to retake possession of the streets and manifest a presence, something they felt was missing. Iniziative di II is a participatory project that aims to return some energy to a community, through the reactivation of a series of latent convergences.
Iniziative di II first edition's line up included Salò, Nicola Pecoraro, Mauro Remiddi and Ra Di Martino, VEGA, Tommaso Arnaldi, Francesca Pionati and Maziar Firouzi, Orizzontale, Industria Indipendente, Luca Lo Pinto, Giulia Crispiani, Diego Gualandris and Giorgia Garzilli, Tropicantesimo, REPLICA (Simona Squadrito, Lisa Andreani), Nicolò Pellarin and Guido Gazzilli, manifesting the desire to create short circuits between various disciplines, to hybridize heterogeneous practices, spontaneously bringing together a series of artists linked in different ways to each other and to the city of Rome.
The following extracts are the results of several conversations about Iniziative di II that have been recorded between Lisa Andreani, Giuseppe Armogida, Tommaso Arnaldi, Paolo Di Noto, Maziar Firouzi, Anna Franceschini, Lorenzo Gigotti, Francesca Pionati, Gianni Politi and Giulio Rampoldi, with questions around performance art, public space, the city of Rome, institutionalization and presence.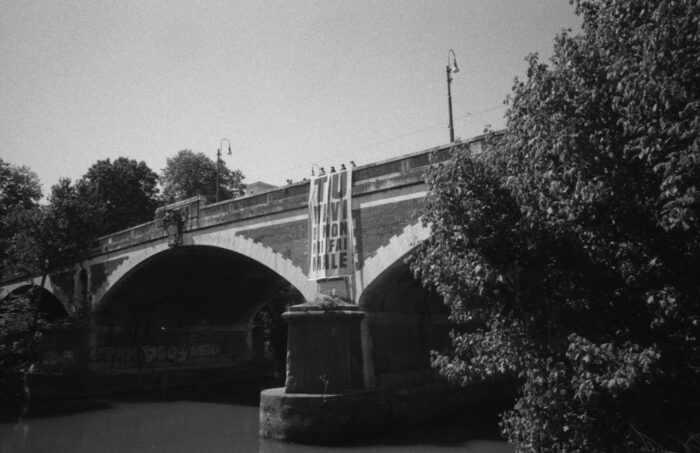 – We wanted to know your opinion about arriving late to any Initiative di II. How did you feel when you arrived late?
– I felt I missed it and it was a funny feeling too. In a world where you never lose anything, because it's all on demand and it's all recorded, there is something funny in the idea of actually losing something, of being late, irreversibly late. There's something you've lost, and that's it.
– On the other hand you were saying that it's also funny that maybe you feel the echo of something, right? I mean, it's like you still feel something happened there.
– Yes you can feel that something has happened. Then the funny thing is that, yes, you are late, but there is the "shadow" of the event, all the people who lived it, those who arrived late like you, those who arrived after you… It creates a narrative in itself…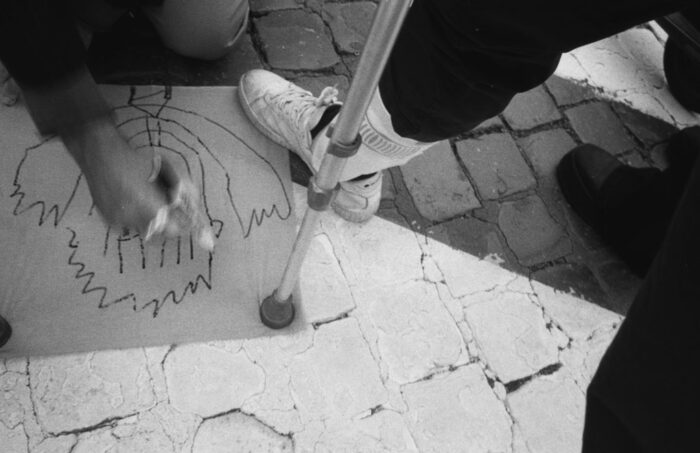 – Have you ever asked those who arrived before you what they saw, or did you act like nothing happened?
– No, of course I asked… Well, I asked how it was and then you hear different opinions… I mean, it's theatre—it's theatricality. You're late, but still there's an audience. You have missed it just because the time frame was relatively short. I really enjoyed this—even when I lost the performance. Also, you can see some traces of the event on Instagram… Cut up, immediate, but somehow you can see it again.
– How was this thing happening in the middle of the street? For someone like you, who have been living in Rome for a long time.
– Well, that part was my favorite—to experience that energy there. I don't want to sound too old, but it really seemed fresh, that's all. That's why I said that this whole experience should be polarized, that this trail should be picked up again and turned into something stable, I don't know how. In my opinion it has created a lot of interest, clearly still inside a bubble, but it did. I mean, even at the level of communication, the whole thing was a bit intangible, you could not understand what it was exactly—a bit unstructured, without a name, beside artists and authors, but also this collective subject that has no clear identity… this thing is interesting, le Iniziative di II, who the fuck are they?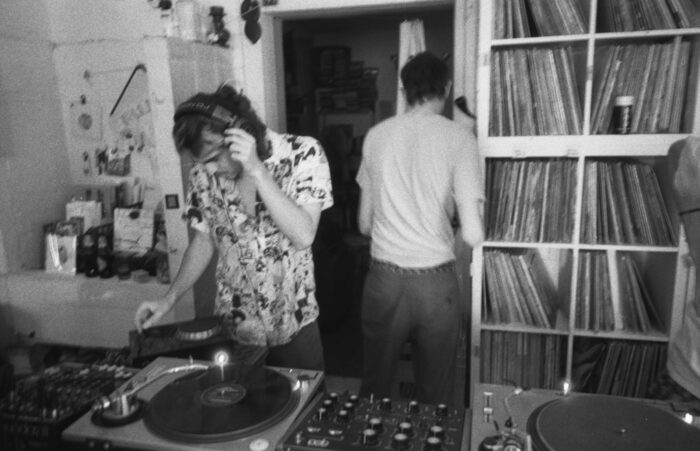 – When I saw Francesca and Maziar performance I thought… to be in that fucking godforsaken arena where I used to go run every day, full of people, all these people who exploded in this applause, to me that was an infinite pleasure. There was also a good bunch of people from Milan, who I think felt a lack or unattainability of something, as something that was too free, too much of a spontaneous result of one's need to express oneself.
– What I think is that some people would have asked themselves many more questions than we did, and rightly so. That was our goal—to be spontaneous. That's why I was very much against the idea of installation view, images that were too objective, because it wasn't necessary.
– Iniziative had a different freedom somehow. I mean, Courbet, the painter who created the Salon des Refusées. Courbet went and physically fought the French Revolution, although he never painted it—never. This was a great way, how shall I say, of criticizing his contemporaries and later contemporaries—as a painter he never painted the revolution, despite taking part in it. In other words, Initiative is Courbet.
– What we have done with the city in some way was treating it a bit like an object trouvé. Rome is obviously no longer what it was in the 1970s. It is a city that has undergone big changes and a pandemic… we have taken that whole, and some elements that are perhaps also connected to a certain system and a certain dimension, and we have decontextualized them. The performances almost seemed absurd, but in these gestures the politics stemmed out as well. They were meant to create some sort of imbalance, to remove, even somehow topographically, from the institutional to give back to the public context. That is really something very powerful.
– Simply put, Le Iniziative di II was the real performance. That is to say, within the framework of an art world—or whatever the fuck you want to call it—the real performance was to do this whole thing conceptually, without asking for permission. It wasn't a series of performances but a big performance that included a series of people who acted. It's like this city, composed of various buildings, maintenance works sites, trams, buses… has all these elements, but it's one city. It's not a single bus or a single building. The performance is not Mauro Remiddi singing, or Maziar talking, or Francesca setting fire to a cock. The performance is deciding to do all of this within a system, getting out of that system, but staying inside it, speaking from the outside, speaking from the inside… that was it. The rest is all the elements that made it up.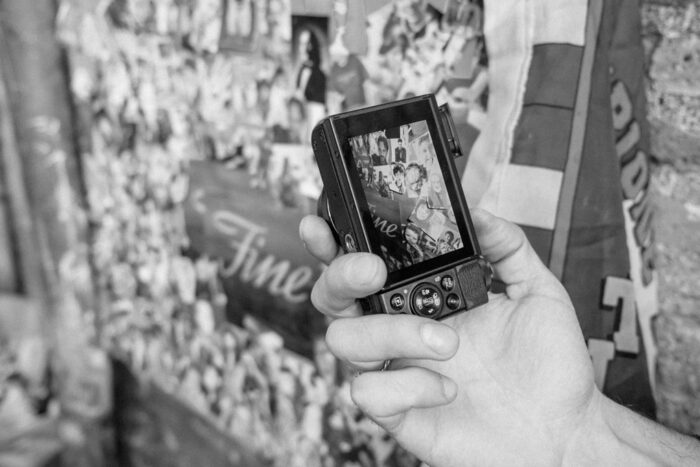 – Anyways, I also think we took risks. I mean, I think that the ultimate prize of this thing here is that we risked in many ways to be criticized or criticizable on several fronts, but no one felt like attacking us on any front, because the spontaneity of this thing was clear from the start.
– This has already happened to me once, when you're standing in front of an empty space… I mean, if you have an empty field and you decide to construct a building and put the foundations, the fucking warden, the councillor, the other ones, will come to check what you are doing. If you're a wayfarer, you put your shitty caravans there, you set it up and then you leave, nobody comes to ask you anything, nobody tells you anything. If you stay for six years maybe, but not if you stay for three days.
– Maybe even if you stay there for six years with the attitude of someone who doesn't come to exploit that space…
– Yes, then in the end you just become a forgotten element of the landscape.
– A Roma camp.
– It's like the little altar that we all built together for Con Tributo. It is there, tramps don't piss there anymore, probably nobody even looks at it that much. In other words, it just became an element of the landscape in that square, nobody pays attention to it. Will it stay there? Maybe it will, maybe it won't…
– That is also the importance of rebuilding from scratch…
– What impression does Rome have on you in general at the moment? How do you live it?
– In my opinion Rome is much more effervescent now. But the problem with Rome is that it has very fast ups and downs. In this sense, Rome is now living a very nice moment, but then we don't know if the next council is going to continue along this line or not. Then you can never rely on that, and this unfortunately takes away our guarantees. Milan is more stable, but we all know it is a little more bourgeois, so to speak. So for stability you have to put on a good face, even in a bad situation.
– I have the impression that it is a little more devitalized though.
– It is like, let's say, getting a soft anesthesia, which allows you to do things in the long term.
– Yeah. You suffer less. In Rome you suffer a lot, but in the short term, you enjoy it more.
– Yes, right. But then I don't know what the hell will happen with the next elections and maybe I say ah, Rome is beautiful, then I come to Rome and I am screwed, because the administration changes.
– Do you think it is a coincidence that 12 days of performances happened here and maybe not somewhere else?
– It could also have happened in Milan, but in Milan the main intention now is to start again, so to say, to earn a living, because it is too difficult to live without it.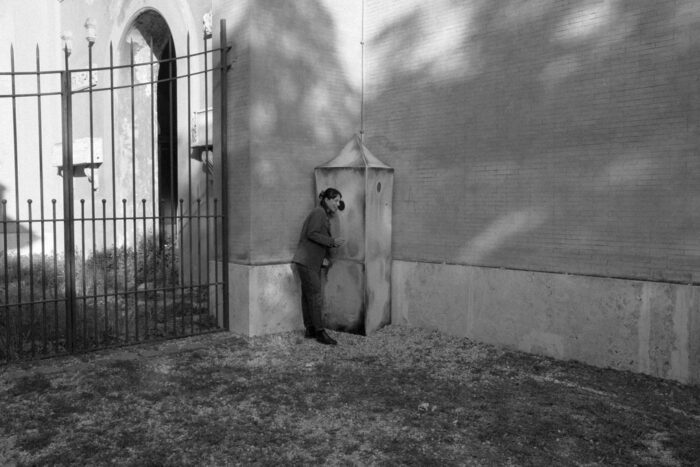 – Well, I didn't expect anything. I mean, honestly, the best thing was not knowing what to expect, really. And that's what got me there, honestly. Not knowing what to expect, that was the beauty of it all.
– And one reflects on the fact that Rome is maybe the most institutional city in the whole country—possibly the world, but definitely the country—so I don't know, is it possible not to become institutional in Rome? Or do you think it is sustainable at all? I mean, we've just done this first spontaneous Initiative, do you think it's possible for us to remain truly independent?
– I wouldn't really think about this as an issue, for me this is a very subtle topic. We should think about the notion of independence itself. Independent from whom? To me that's the main question. At the same time, what exactly do you mean by non-institutionalized? In my opinion, for an event like Iniziative, to have the support of institutions could really happen in the future, in the sense that it would unhinge the mechanisms of institutions themselves. I think that's exactly how it works. You have to act from the inside. That's the kind of the message punk was setting through, that's what punk was all about. The Sex Pistols released an album with EMI, they didn't release an album with an independent label. They probably wouldn't have had the same exposure any other way in England in 1976. It's like that, it's a bit like that, you release the album for EMI and you put a song against EMI in the album. It's like that—it's always been.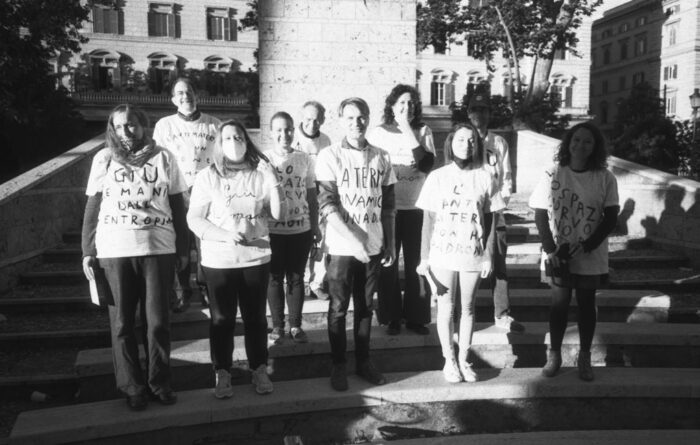 – We are asking people who have been involved in the Initiatives both from the inside and from the outside for their opinion on what happened… what do you think?
– In my opinion during the first action, the most beautiful thing was what happened after the performance at the Tiber Island. In the end the action lasted about 30 minutes, then we left, and people stayed there, lots of people talking and seeing each other again… Nicola Pecoraro was like that, Rä Di Martino as well. The location of the performance became a "piazza" after. The actions were absolutely relevant, but what the actions have created, people being with each other again, was almost stronger than the action itself.
– Yes I agree. The spirit. A new spirit is lurking around the streets of Rome. A bit Marxist (laughing). You feel an energy, a thing, that passes, that goes through you, you can catch it, but if you don't, you feel the scent, I don't know, there's the wake of that act there, which is still beautiful.
– When art meets life it ceases to exist only within a narrow field of possibilities. For this reason, abandoning any medium that stands between the public and the work of art means having the courage to define oneself, accepting the risk of being framed by a lens so powerful that it recognizes from a distance the features of our face, wrinkles, signs that orient us towards a predetermined direction.
Being among people resolves the curiosity that many have towards human beings, enriching us to the point of being saturated with love and then wanting to start over. This is why it is important for art to take back possession of public spaces, in order to contaminate people, to allow itself to be contaminated by people. Poison it more and more, in order to draw something back from it.
Iniziative di II
In December 1977 the legendary underground theatre Beat 72 gave birth to the very first season of Iniziative di ii in Rome. In 2021 a small group of young artists and curators living in the same city was struck by the spontaneity of that gesture. Iniziative di II is neither a festival nor a show, but a single stratified performance that unfolds through time and space, encompassing various and heterogeneous practices and people.