Kianoosh Motallebi, From a Marvelous Faucet, 2022 (detail). Photos Lotte Stekelenburg. © and courtesy the artists and Rib, Rotterdam.
Trans What? Pondians!
"The Last Terminal: Reflections on the Coming Apocalypse (Part 2 — Natural Selection)" at Rib
Following the introduction of The Last Terminal: Reflections on the Coming Apocalypse in September and Part 1 — Survival of the Fittest: the big toe of little big man in November last year, we continued our journey with Part 2 — Natural Selection in February 2022. Coinciding with the lockdown, several long blackouts befell us during the holiday, perhaps signaling this year's cadence. In their program, Rib gradually adds new works and replaces some of the existing ones, building a narrative that evolves whilst rethinking their pathways and future.
The blackouts at Rib are borrowed. Misleading. Will trick the loup-garou type into howling. They are connected to Rib's infrastructure as part of Mathew Kneebone's Power Relations (2021). When California blacks out, so does Rib, leaving its daily events disrupted by overseas power outages. Transpondians! From across the pondians. Rib's operations and artworks depend on electricity. Without that, a darkness of uncertainty, but also, potentiality washes over them. A what-took-you-so-long welcomed like an old friend, for a liminal state is one of possibility in which the whats and hows of exhibition-making can be re-articulated.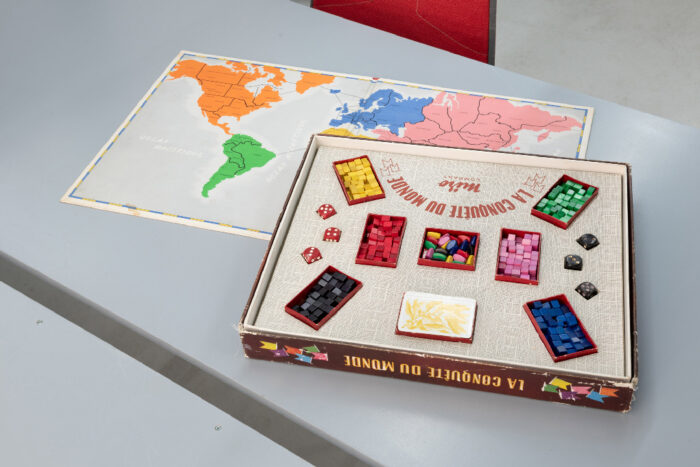 But to be a liminal one is to be vulnerable! Mabinogi says: Lleu Llaw Gyffes. Mostly untouchable, immortalish, but hyper vulnerable under the unlikeliest circumstances. The spear one could successfully strike him with would take a year of Sundays to forge, hammered on the peaceful mornings when everyone was in church. Suppose you'd done so, you'd need to find a way to kill him neither indoors nor outdoors, on foot nor horseback. Peculiar, that neither indoors nor outdoors: in a bath-house such as they build on the river bank with a thatched roof but no walls, so the wind blows through, fanning the bather to goose pimples, as he climbs out of the tub between wet and dry.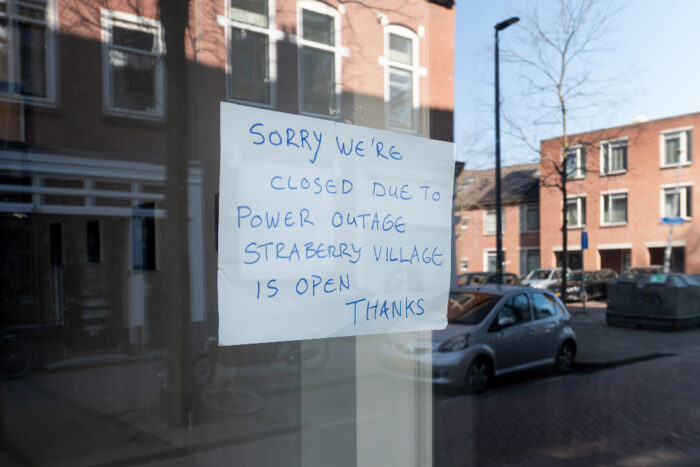 For Rib to enter into a liminal condition in which it can welcome the washing waves of inarticulacy, it has to become vulnerable. In Rib's modus operandi, vulnerability and liminality are intrinsically linked. Inarticulacy sword, vulnerability shield. Its 2022 programme therefore relies on its exposure to dominant forces that push and pull on Rib's conceptual fabric.
The works in Rib Chinesely whisper Le vent des amoureux (Baade Sabaa, 1978), a film by the late French director Albert Lamorisse (1922-1970), the waking-up-to for Rib's The Last Terminal programme. Maziar writes that the film is mainly told through the voice of the wind, skimming over the rural desert regions of Iran. In 1968, Lamorisse was asked by the Ministry of Art and Culture to make a documentary about Iran. The Shah disapproved the first, more poetic, rendition of Le vent des amoureux and asked for additional footage that would show the developing industries, laboratories and factories, including an important milestone—the Amir Kabir Dam. Ominous. While filming, the helicopter with Lamorisse and crew became entangled with suspended wires over the Dam and crashed. Propaganda leaving a splash in the water is no bread, and if the gulls aren't having it, then neither am I. The camera was later recovered from the bottom of the river and the lost footage was edited in by his wife, Jeanne Claude Duparc, according to Lamorisse's written instructions. In the new film, the steady and gliding aerial shots had been rearranged into a more nervous and pronounced edit. Creaking rotor blades: Lamorisse's unwillingness to make propaganda. The visual material had been edited in an accelerated manner and the accompanying music is tense. That which the wind had so easily carried before was now made heavy with propaganda by the Tja. Rib shows both films. Two screens: left is voice-of-the-wind, right is hush.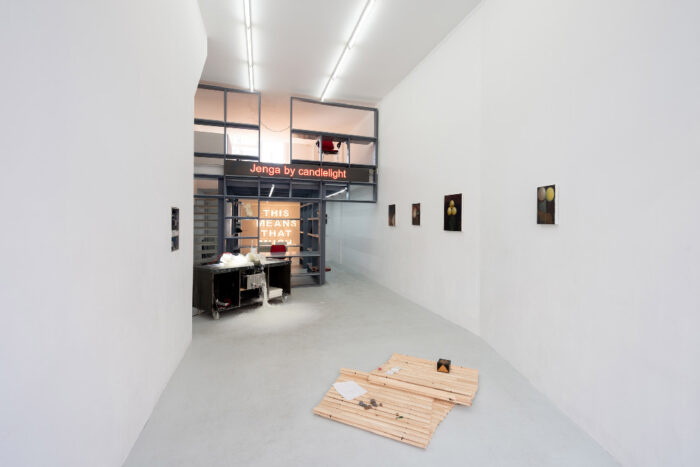 Oscar won! Conflict proves to have been inseparable from the process of making this film and carries Rib's programme as it is purposely mustered in and around the exhibition space. Mathew Kneebone's aforementioned intervention is one of the works that counterparts Rib with an externality. A d-d-dominant one. Where is Rib? That, Kneebone also reveals. With every blackout, handwritten notes based on found material say sharpiely on the door: Power out / Cash only! or SORRY WE'RE / CLOSED DUE TO / POWER OUTAGE / STRABERRY VILLAGE / IS OPEN / THANKS or NO POWER DUE TO WEATHER* / * SANDBAGS AVAILABLE AT MARIN & KANSAS STREET or DUE TO PSPS, THE / ROASTER WILL BE / CLOSING AT 2PM TODAY 10/23 / LUNCH WILL STOP BEING / SERVED AT 1 PM. Poem quotation slashes. They are texts encountered in shop windows throughout California during some of its blackouts. They have been pre-selected by Mathew, selected by Rib, electe is viva Catalunya! In the generosity of Rib's conceptual framework, these are condensed moments of intimate individuality, as they are handwritten by Rib's personnel.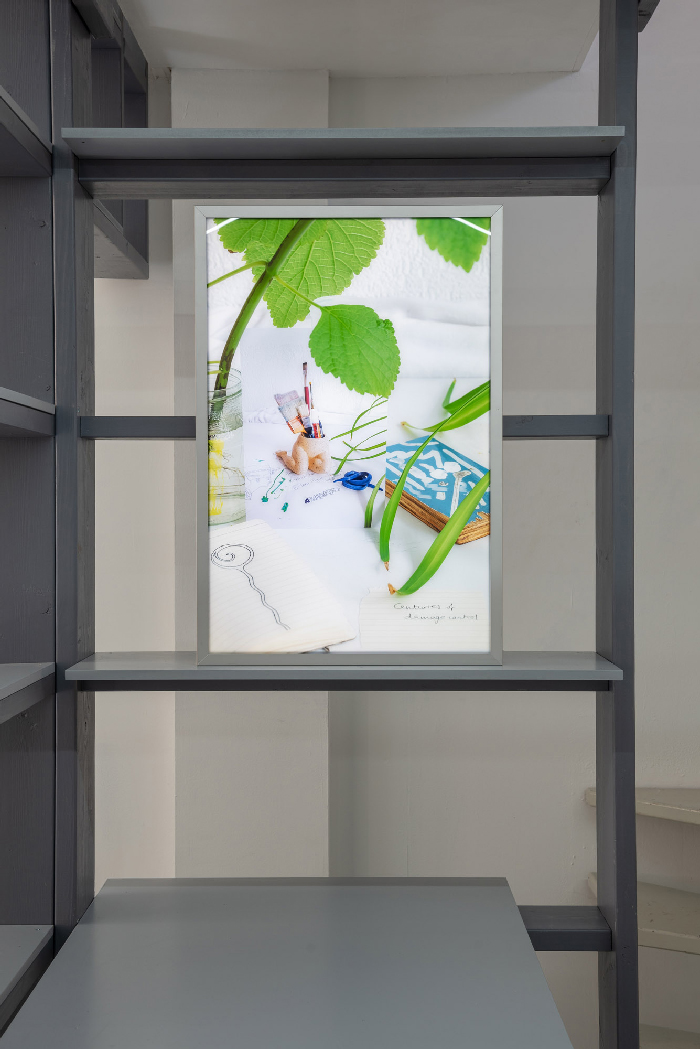 In contrast to the external blackouts affecting daily rib-to-rib, an architectural structure intervenes from the inside. The large wooden modular construction by Olivier Goethals connects the ground floor and loft, and is used as office, rehearsal space, storage, display, and more. The structure also supports LED display that says things like "The diablo winds are coming". More Kneebone. It is also in part Marije de Wit's reading room. And on several shelves there are sculptures made by Shahin Afrassiabi. Goethals enters into curatorial participation by means of architectural intervention, as the physical structure it imposes on Rib determines how a significant part of the works in the programme are to be displayed. You surper, you! But Spatial Intervention (2021) is as dominant in overtaking curatorial tasks as it is submissive to displaying the work of art, as it on one hand demands Rib's personnel to adjust their daily operations, alpha, while also allows itself to be reduced to pedestal by the work of art.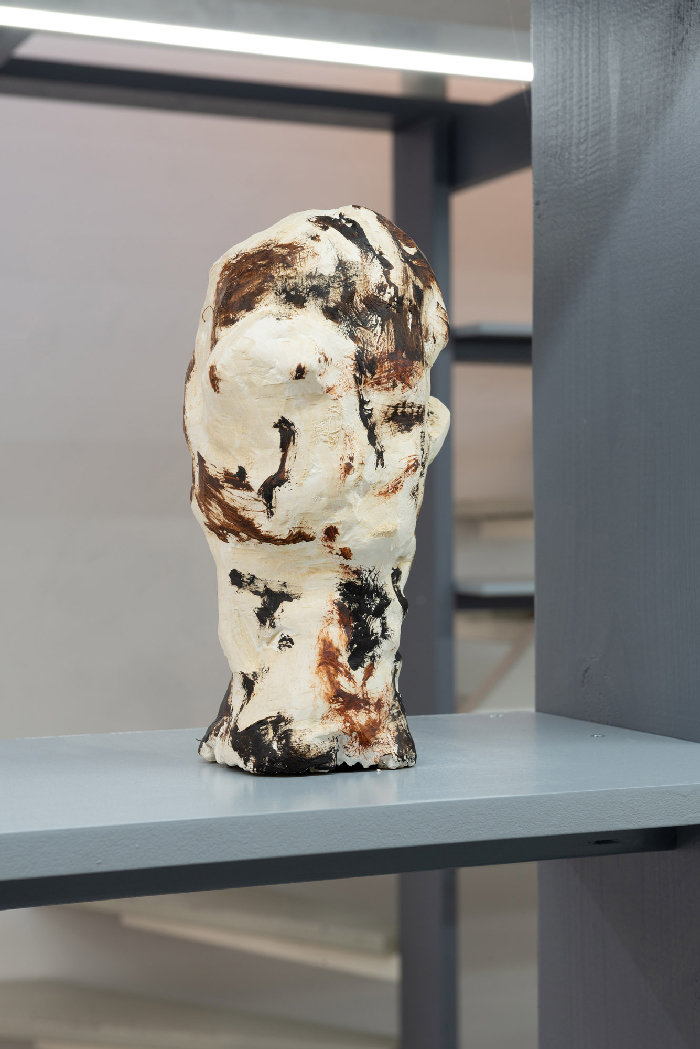 One of the latest additions to the programme is Kianoosh Motallebi's sculptural installation From a Marvelous Faucet (2022) and illustrates an outcome of the marriage of forces that are more opposite than alike. At the heart of this sculptural installation is a lamp embedded in a bath of paraffin, gradually melting it as long as it is not disrupted by any blackouts. It is then fountained out, solidifies in whichever place it doesn't continue to melt. Looks like snow. Slippery! A growing area of solidified wax on the floor outlines the large metal sculpture, and continues to build up for the duration of the exhibition. As it claims more and more floor space, the distance between sculpture and viewer becomes increasingly larger. Then, when for a future rendition of the show the sculpture will have to make place for another, what is left is an accumulation of paraffin on the floor with the sculpture's negative shape. Silhouetted!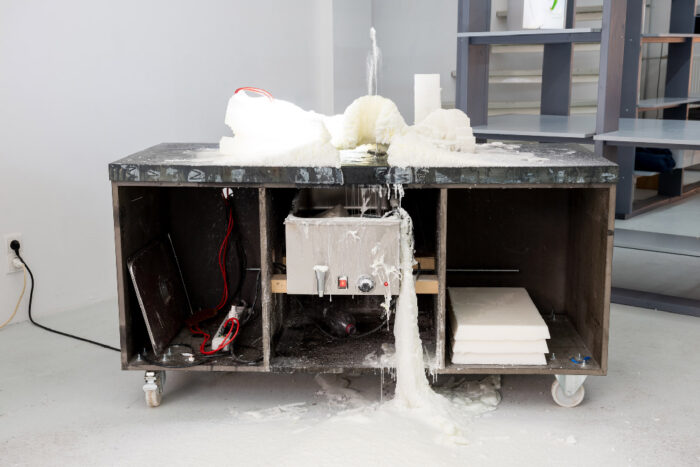 What inspired Kianoosh for this piece was the wreck of Lamorisse's helicopter, but more specifically what underlies crashes in general: collisions. A car's metal body forms and deforms around that which it collides into. A mould! It reshapes in accordance with the lamp post. Becomes post-lamp. Candle? No, that is pre. It is a double mould. Its shape is determined by its inside thing (driver) and outside thing (crash!). Echo goes RIB Rib rib.. is the 0 exhibiting the -1 and + 1. An approach that resonates strongly with Motallebi's line of thought. It is this connection that underscores Rib's non-hierarchical approach to exhibition programming and how it advocates that one way of seeing is to exist amidst others, instead of towering over them. In The Last Terminal: Reflections on the Coming Apocalypse Part 2: Natural Selection, an open, playful and in part improvised approach does all but exclude specific and precise connections between the artworks, performances and interventions throughout the programme.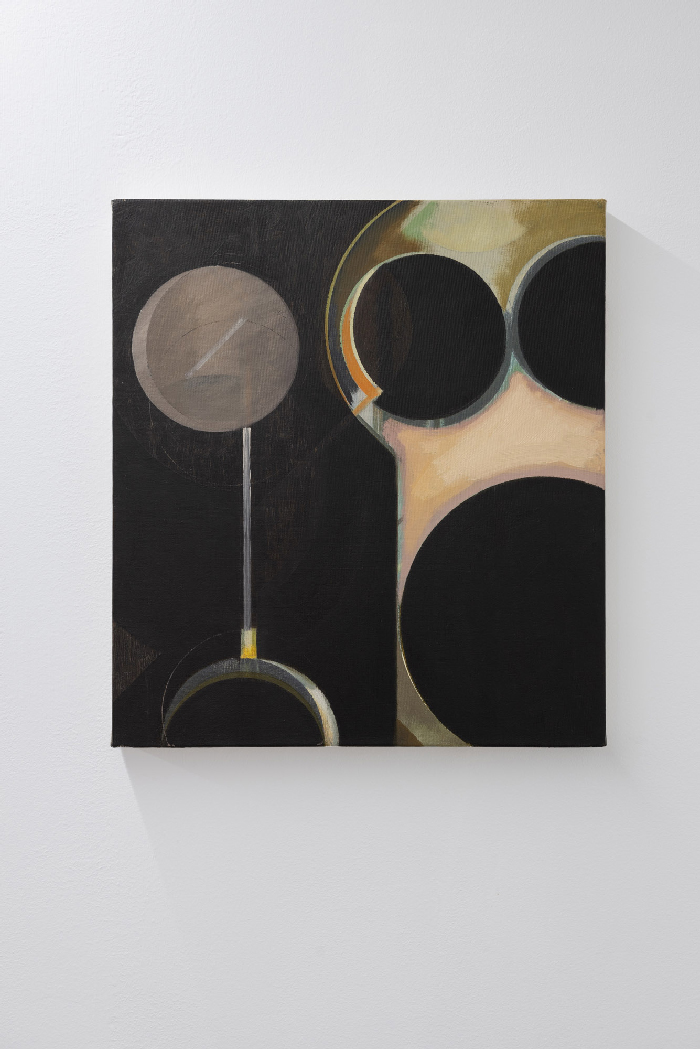 In a house filled with wind, in a box filled with water a man was singing himself clean. When he rose, here was his wife leading a creature that was half-sheep and half-deer for him to climb on. And there his killer found him, half-wet, half-dry, with one foot on a goat's hairy back. Just as I'd dreamed it, he died of unlikeliness—or didn't. As the spear broke his ribs and spread its slick of poison, through his heart's flanges, something flew out with a scream, flailing its feathers.
Reinier Vrancken
is an artist living and working in Rotterdam. Solo exhibitions include:
Ye (..) manifold
(Marwan, Amsterdam) and
An owl is an owl and a swan is a swan but a crow is only partially crow and partially the sound a rooster makes
(Komplot, Brussels). His work was shown in duo and group exhibitions including:
A Thinnest Thin
(Het Gebouw (by stanley brouwn), Utrecht),
Prospects
(Art Rotterdam),
Higher! Higher! Lower, Lower. Louder! Louder! Softer, Softer
(Shimmer, Rotterdam),
Carbon Copy
(Tique, Antwerp),
v/a polish bootlegs
(Rib, Rotterdam),
Detached Involvement
(Garage, Rotterdam),
Playhouse '71—'17
(Museum van Bommel van Dam, Venlo) and
Marres Currents #4: Running Time
(Marres, House for Contemporary Culture, Maastricht).