re–creatures 2022, Mattatoio, Roma. Foto di Pietro Bertora ©️2022 Azienda Speciale Palaexpo.
Omniscience
On the work of Hylozoic / Desires
Performance is digging deeper and deeper into themes such as nature, ecology and inquiries on other life forms. In complicity with other study fields like Environmental Humanities, where humanist disciplines dialogue with global ecological crisis in an intersectional way. From Donna Haraway theorizing the ruins along with non-human subjectivities, in which the common becomes central, to anthropologist Viveros de Castro and professor Dèbora Danowski, who are focusing in their The Ends Of The World on the temporal acceleration we are currently experiencing. As everything triggers a reflection upon our staying and acting in an infected world, so it is for the field of performance, that often brings on stage methodologies to be transformed in survival startegies.
For their first time in Rome, the duo Hylozoic / Desires—formed by performer and writer Himali Singh Soin and drummer, composer and performer David Soin Tappeser—have brought to the outdoor spaces of Mattatoio their performance piece an omniscience: an atmos-etheric, transnational, interplanetary cosmist bird opera spanning seven continents and the many verses, an original musical partition for a wind quartet and two voices guided by an orchestra director, that narrates the story of the Artict Tern, a bird that migrates the furthest than any other creature. We have met them during the summer program of re-creatures, after their residency period at Prender-si Cura, during which they worked on part of the performance in collaboration with Biennale Gherdëina ∞, where the work has premiered. Since the beginning, the program curated by Ilaria Mancia unfolded through animality and new ecologies, bringing the focus on the interaction between different non-human and human life forms.
As Hylozoic / Desires you work with poetry and experimental music, how do you develop your practice as a duo? How do these two media interact?
Hylozoic / Desires: If music is the (re-)organisation of sound, then poetry is the (re-)organisation of language. We aspire to a strange balance between rhythm and melody, and towards a clarity that embraces abstraction. There are several collectives that present their professional alliances and keep their personal relations private; Hylozoic / Desires' first piece was, You Really Got Me Now, our love story in the form of a lecture-performance, exploring desire across borders, the technologies of romance and the potential of art and love both to face the violence that comes with the linear, accelerated spacio-temporalities of xenophobia. So love is at the heart of our lives and at the heart of our work, both as a method and as an operative force that holds our different medialities together.
In your presentation you declare that Hylozoic / Desires "aspire toward a flat ontological ether in which all forms of life—stone, spirit, machine or human—are equal." How this statement is translated into practice?
What better form than poetry, which is necessarily motived by metaphor, to give voice to nonhuman beings? And music, which maybe the birds hear, maybe the stone feels, and speaks in a language beyond the human? we are opposite like that speaks for melting ice, and is scored for a string quartet, drawing out the landscape in alarming scratches and drips. Static Range speaks for mountains and river contaminated by the nuclear, a pair of nagada drums recreate the rhythms of censored and oppressed communities in the radius of the reactors.
In As Grand as What, we embody the characters of earth spirits, becoming mediums to conduct rituals to help the collective earth-body regain their essence in the wake of a crisis of lost presence.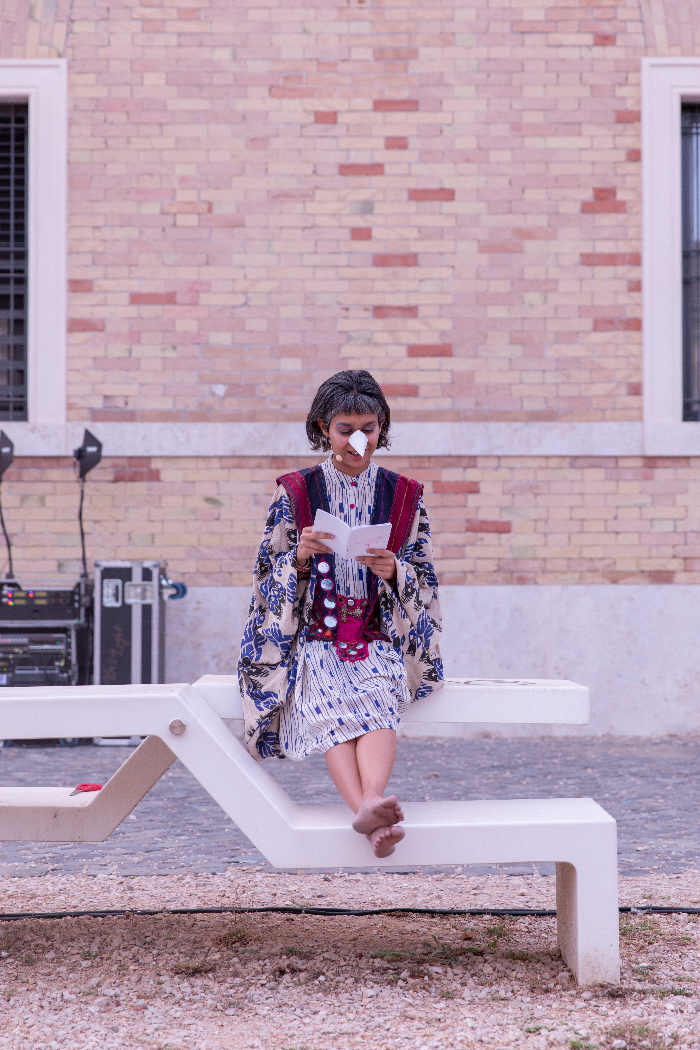 What was the desire that moved you to start working on An Omniscience? What intrigued you about the life of the arctic tern?
We saw ourselves in this migratory bird! We are both very nomadic, and our practice is influenced by internationalism and local cultural variations and confluences. An Omniscience is an extension of we are opposite like that, Himali's ongoing research in the North and South poles. In a time of closed borders and a new imagination of "home", this avian opera celebrates air, lightness, drifting, horizons, transnationalism and cosmism, while grieving the melting poles, the loss of home, the hunger, the defeat of not arriving and the loneliness of individualism. It insists on collectivity, social movements and non-linear ways of being. It attempts to re-route us, to go back and forth in time and offer an existential glimpse at our biped lives, and suggests drift as a mode of being (Terns can hover in mid-air for long periods of time) and air as a supportive ether for the circulation of a common path (of ideas) that runs across the ends of the earth, connecting the tundra to the tropics. The references span cultural legends of fantastical birds, flying the seven seas, the valleys, the realms. The bird becomes a prophet, a poet, an instructor, a politician, a philosopher, a guide. At the end, the music is the bird, a winged exception to our gravity-dependent bodies.
The Arctic Tern makes the longest migration of any known creature, traveling annually from the Arctic to the Antarctic and back, equalling almost three trips to the moon and back over its thirty year lifespan. We wrote it as a way to learn from the birds, even momentarily, become the birds!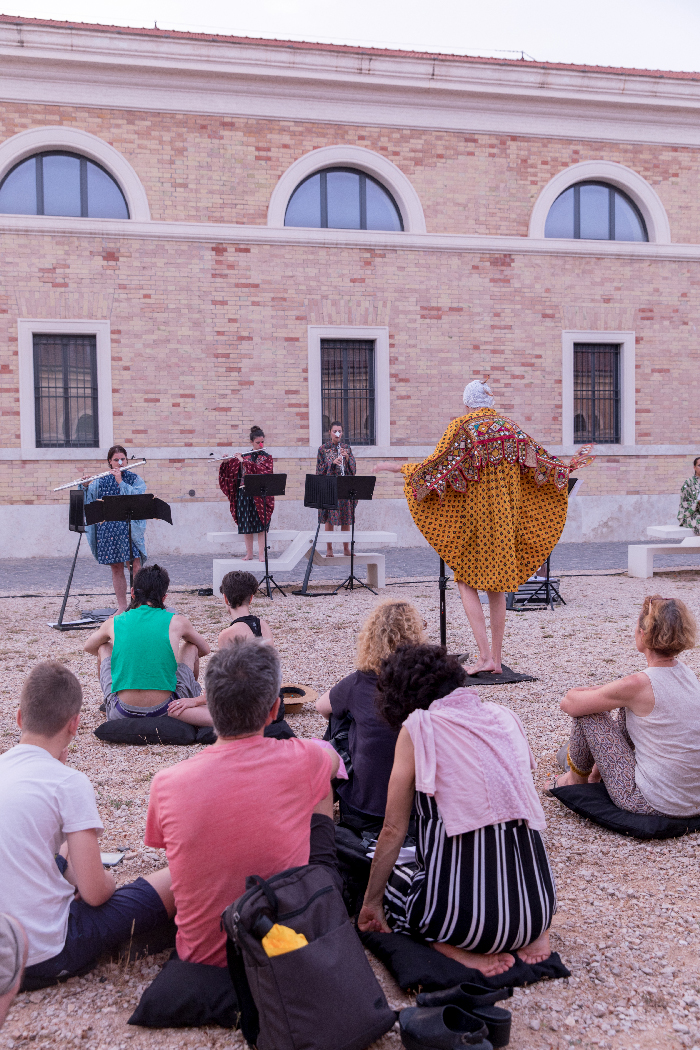 You have been in research and artistic residency at Mattatoio developing An Omniscience, the performance that premiered in Biennale Gherdëina ∞ and you presented in Mattatoio in the frame of re-creatures. Can you tell us about the experience of the residency?
Being in Rome was the perfect, ancient setting in which to reflect on modernity. We spent time watching bats in tombs, pigeons at fountains and seagulls in the garbage. It reminded us that the natural world is closer to us than we think, and in fact these creatures are not simply soaring above oceans, but using the silicon wires and plastic bottle caps of our waste to build their new nests. They have in fact, adapted to the Anthropocene better than we have. But they squawk frequently, they cry. We wondered if they were trying to warn us.
AN OMNISCIENCE happened in the context of re-creatures programme curated by Ilaria Mancia.
AN OMNISCIENCE was co-commissioned by: Henie Onstad Kunstsenter, Høvikodden; Biennale Gherdeïna ∞, Ortisei; Radical Ecology; Azienda Speciale Palaexpo, Mattatoio Roma | Progetto Prender-si cura; & Museum of Contemporary Art Kiasma, Finnish National Gallery, Helsinki, part of the program Kiasma Theatre e Serpentine, London, and part of General Ecology.
with thanks to:
Obsidian Coast for birdwatching with us
Bjørn Anders Nymoen for being chased by an angry tern and recording it
The residency at Mattatoio, Rome
The residency at Palm Heights, Cayman
The guidance of Eduard Demetz
composition by: David Soin Tappeser
poetry by: Himali Singh Soin
costumes tailored at Nanny's
beaks by: Carlo Santolini
recording by: Friedemann Ploner
flute by: Elena D'Alò
oboe by: Claire Colombo
bass Flute by: Andrea Salvi
bass Clarinet by: Alessandro Malcangi
second voice by: Cairo Clarke
first voice by: Himali Singh Soin
conducted by: David Soin Tappeser
Hylozoic / Desires
(Himali Singh Soin & David Soin Tappeser) is a multi-media performance duo whose work combines experimental poetry and original music in order to conjure borgesian, speculative futures and multiverses. H/D aspire toward a flat ontological ether in which all forms of life—stone, spirit, machine or human—are equal. They skew the linear imagination of time and space to produce divergences that elicit wonder. H/D's research orbits around (non)place and history as a way to learn from the multiple materialities of contemporary existence. They are concerned with the (poly)rhythms of love and the bea(s)t of belonging. Hylozoic / Desires use metaphor as an event, as a force of attraction that holds otherwise distant entities together.