Viola Morini x Giacomo Giannantonio, no child left behind, 2021. Exhibition View, Dimora Artica Gallery, Milan. Photo Staff Dimora Artica.
Energy Exchange
On the demolition of our safe space
The exhibition No Child Left Behind is a dual effort between Giacomo Giannantonio and Viola Morini. The artists have transformed the space of Dimora Artica into a semi-domesticized, digital and irl space, that explores the ever-shifting landscape one tries to call home. Through video, sculpture, and site-specific installation, the exhibition refers to the brutal upheavals and displacements linked with urbanization, and the reclaiming of space or memory through making.
Textile fragments scattered all over the floor, couch, side tables; red organdy with tiny velvet hearts, purple and white tie-dye, bridesmaid-ish peach silk, crocodile print, synthetic ivory fur—"we found all of them wandering around markets here in Milan. We walked through the fabric per meter stands of Isola, Porta Romana, and Turro, among others," explained Viola, one of the two artists of the exhibition No Child Left Behind while picking up some from the floor and feeling the cloth with her hands. A sewing machine lay in the corner of the messy room. "We didn't know how to use it. We are learning just now, sewing piece by piece, and gradually building a colossal patchwork," added Giacomo, the other exhibiting artist, indicating the sewing machine. Viola went to get something in the second and last room of the studio and came back with a gigantic sort of cover made up of the same textiles spread out under our feet. A few squares of the patchwork stood out. Printed on cloth, alternated by plain or patterned pieces, there were also memes and cutouts of random images: a billionaire heart-shaped artificial lake, Gigi Goode at RuPaul's Drag Race, a still from an Ousmane Sembène's 1966 movie, glittery mountains, a melting glacier that could innocently appear as a cool mirror effect on hills. "This work will cover the inside walls of the gallery, and it will be shaped to have its own entrance as well. It will create a new space inside the traditional white exhibiting box."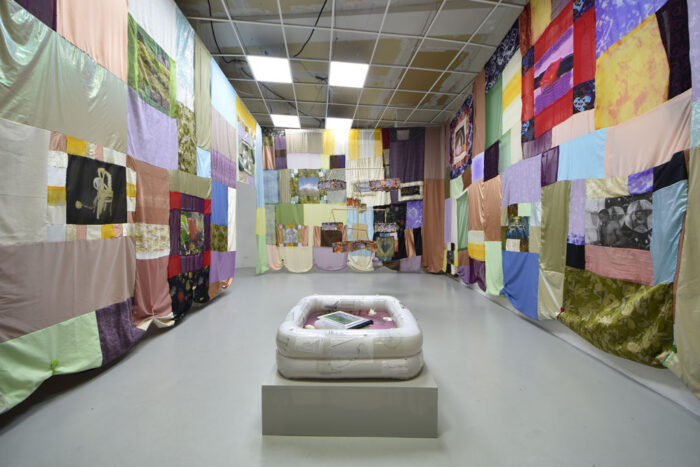 Two months after visiting Giacomo and Viola's studio, I saw the patchwork again at Dimora Artica in Milan, an independent exhibition space dedicated to contemporary arts' new experiments. "Abusers will not thrive in this scene" stated a meme sewed in the entrance's strip. Intimate, soft, lighthearted, hiding the usual cookie-cutter apparent formality of the galleries' spaces. It certainly worked, inclining towards a more incisive and vulnerable experience. The memes and other random images—fireworks, or a dogfight on the Gaza line, depending on the perspective; a composition of abstract shapes portraying birds flying in long exposure near the trellis and electric cables; snipers camouflaged in snow or moss—were randomly selected from the internet and shown as reminders that artists no longer play the role of absolute creators, rather constantly relate with the external world in order to collect, assimilate, and exhibit a thought capable of genuinely interacting with the viewer.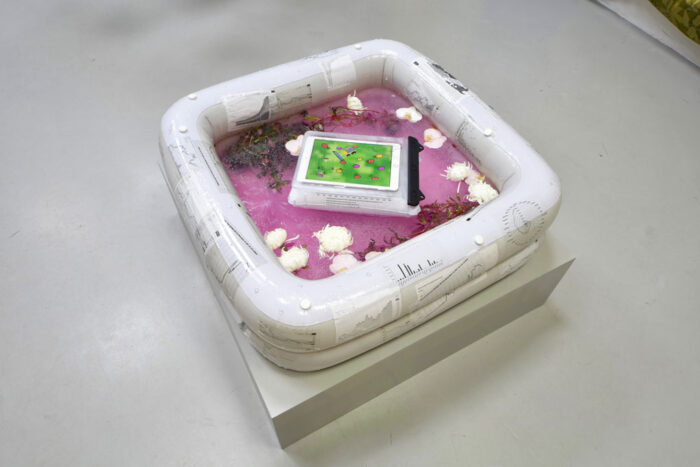 Following the same principle, memes are created by layering references and contextualizing them in a current topic. According to Viola and Giacomo, they can also serve as notes for the present and to help envision a less pessimistic future: cute aesthetics masking tragedy. On one hand, disturbing when spotted, but on the other, in the wake of an emerging Solarpunk mindset, interpretable as an attempt of protection from the apocalyptic previsions that bombards us by adopting an (almost jarring) cheerful attitude. Born in the early 2000s in Brazil, the literary and visual movement identified as Solarpunk, now mainly spreading as an online art genre, rejects dystopian pessimism putting forward images of renewable-powered futures that challenge us to alter our social habits. Inside the temporary space, like in a playground, a castle of colorful boxes came down from above, an inflatable pool lay on the floor.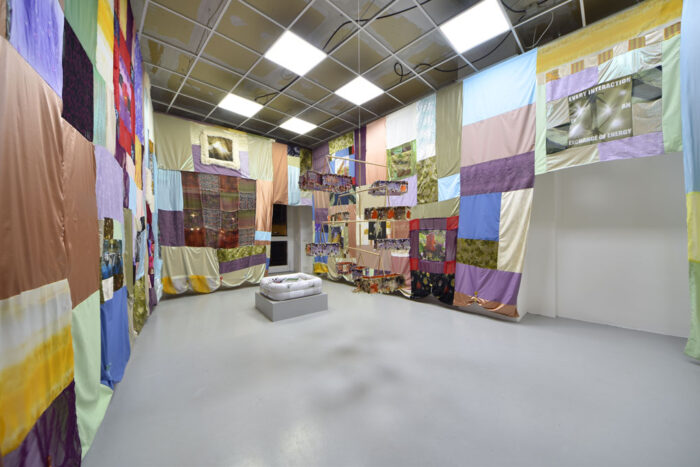 In a loop, one cute pug is enjoying the blooming grass of its courtyard, when, all of a sudden, a bulldozer enters the scene advancing and advancing til it picks it up with its shovel; the dog, removed from the garden, dies and rises in the sky surrounded by flowers. The lo-fi micro cartoon—realized by Francesco Cingillo/salviasnack—floats on pink water inside an IPad. Water lilies and an effervescent bath bomb fill the inflatable pool, which is completely covered in printed sheets half showing data on the spread of cryptocurrencies, and half on concerning statistics related to the urgency of climate change. Like many other works by Giacomo Giannantonio, the inclusion of a living habitat is key. Therefore, the project requires the necessary care and attention to make it survive like it was first conceived. The water in the inflatable pool, for instance, has to be periodically nourished with new lilies and bath bombs. An active approach to the artwork is needed. This also awakens mechanisms of action and responsibility, although with an almost insignificant effort.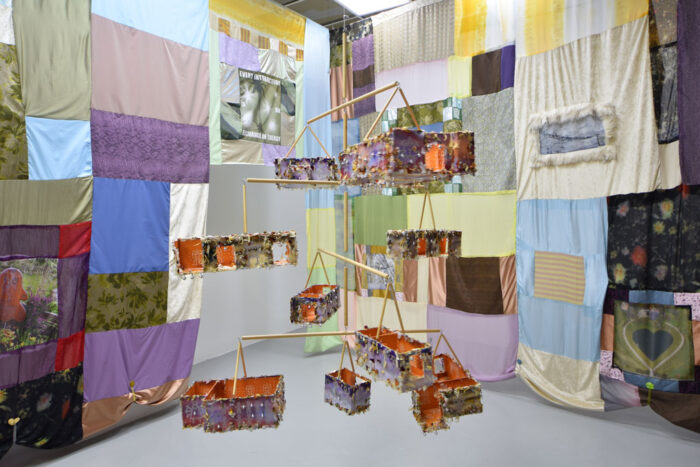 Neoliberalists systems, consequences of climate change, and harmful gentrification can often lead to displacement issues in contemporary society. Displacement, as a feeling, can come from something as usual as moving to another house, losing your own, or growing up scattered from place to place. Our sense of belonging is existent, and the grief that results from a traumatic event hitting this innate instinct is as well. From the ceiling of Dimora Artica hung a structure of rectangular models representing the interiors of various rooms, in a balance of weights and counterweights. According to Viola, all the pieces realized with organic materials such as cardboard, wood, flowers, resin, and paper need constant restoration—inasmuch as not forgetting requires an equivalent amount of energy, after all. The castle made noises, moved, and released a sharp smell. Again, it felt like a breathing system. Each model replicated a room where Viola once lived, created again without planimetry, using memory as the only instrument. Inevitably, by recalling measures from our perceptions, the places of memories—like play dough for our imagination—are subjected to manipulation and distortion. Thus, No Child Left Behind additionally reminds us that our safe spaces are repeatedly forced to go through demolition and reconstruction at a speed that our sensitivity cannot reach.
Matilde Manicardi
is a writer and arts professional, currently a master's student in media, communications & cultural studies at the London School of Economics and Political Science. Recently, she worked as a studio assistant at Cesura, a photo collective, lab, and publishing house. She holds a bachelor's degree in Arts Management.