Luca De Leva, nanna, THYSELF AGENCY. Courtesy the artist.
Another Method 
A conversation with Luca De Leva on Thyself Agency
With Thyself Agency—an office for existential practice experimentation—artist Luca De Leva offers new methods for spiritual research, personal and intimate exercises to unhinge behavioral automatisms and to facilitate the search for new forms and ways of living and relating to the world.
Simona Squadrito: Thyself Agency—which you are the creator and founder of—is a natural consequence of a coherent research path. Can you tell me more about the Agency's activities?
Luca De Leva: Thyself Agency is a travel agency. We organize expeditions into the unknown, through three specific exercises: "Life Exchange", "Nine Days Week", and "The Glasses". With no profit nor entertainment purposes, ee offer free services that allow you to get in touch with the deepest part of yourself. By experimenting with them we have discovered that they regenerate our personal base. I have always seen art as a tool to experience the ineffable, to make it more accessible, and to be able to learn from it. These exercises help me to do it, that's why their only purpose is to produce methodologies rather than contents. Seeing the positive effects on the other participants pushed me to continue. They tell me my idea and we all become agents in the Agency's womb. This is an artwork, an artwork that's done with real life.
"Life Exchange" was born thinking about the frustration of many people and that internal voice that says: "do something with your life"—I was among them. When this thought started recurring obsessively, I chose to physically deal with it. So I swapped my life with a stranger. It was 2011, I was in Beirut, and for a week I lived in someone else's shoes. This exercise unleashed my imagination, giving me new awareness through extreme freedom of choice. Today, I continue this work through the Agency, and the exercise is repeated in different forms, adapted for the new participants. Through our website, you can contact us and participate. You will discover that any impediment is actually an opportunity.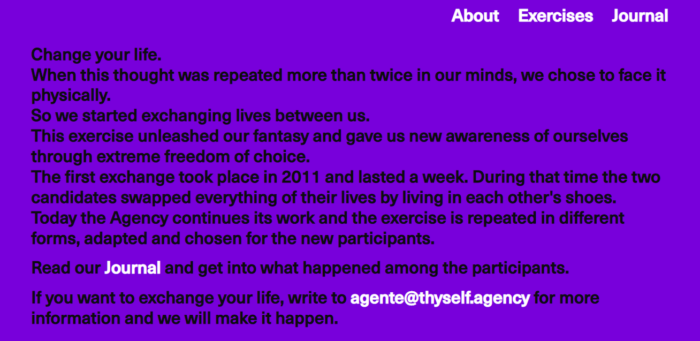 What is the "Nine Days Week"?
I have many friends who work from Monday to Saturday, waiting for Sunday as the only time to cultivate their best talents. They are unhappy because they never have enough time and they always dream of having more. So we imagined a week made up of nine days. Instead of complaining, we corrected the sleep-wake cycle. Now we have more time for our real interests. We sleep six hours a day, live nine days a week, and have lost our jobs. By disrupting the daily routine, we have touched the psychic coordinates of our imaginative life and evolved the constitution of our minds. Every day still has its pain, but new solutions emerge spontaneously.
On our website you will find a Nine Days Calendar: some days begin with light and others with darkness. Both the calendar and the formula to calculate it are free for everyone to use. Anyone can experiment by making their own. Like the other exercises proposed by the Agency, it aims to develop new and unprecedented sensibilities in those who experience them. These are exercises open to everyone, although they are not for everyone.
What do you mean that the exercises are ultimately not for everyone? Is there a need for particular physical and spiritual preparation to access the services?
First of all, you need to have the desire to try. This desire cannot be induced, neither by me nor by anyone else, it must be true. If induced it would be to treat life as a commodity and I promised myself not to do that. To abandon external constraints, you must perceive some factors as constraints. It doesn't work for everyone, so not everyone needs the exercises. This is what I mean. These things can be seen as bizarre games or social experiments, but they are not, they have very intimate and radical implications and they are not meant to prove anything. We are trying to develop a different kind of consciousness within ourselves—not rational, but neither irrational. A suitable word might be a-rational. Does this require special preparation? Yes, and we develop it together. By going with it.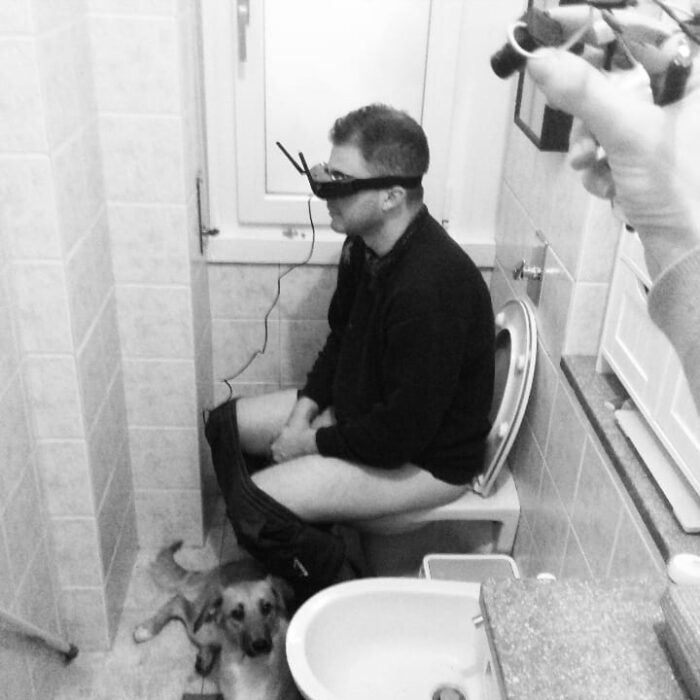 "The Glasses" is a continuation of "Chronicles from another eye", the performance that took place in 2017 at Castello di Rivoli. On that occasion, thanks to the use of modified FPV goggles, you exchanged your viewfield in real time with your partner's. How does the exercise "The Glasses" proposed by Thyself Agency work instead?
Yes, this exercise also refers to one of my past performances. It was the last one I did myself. By practicing the subversion of myself through previous exercises, I think I have developed a new sensibility and a different vision of reality. I couldn't believe my eyes, so I chose to use my eyesight too. By modifying a simple device bought in a hobby shop, I created a pair of glasses to look at myself from the outside—in third person..
Now we use them in daily life: eating watching ourselves eat, living watching ourselves live, loving watching ourselves love. Through our website, you can contact us to experience your own "third person" and participate in the sessions we organize.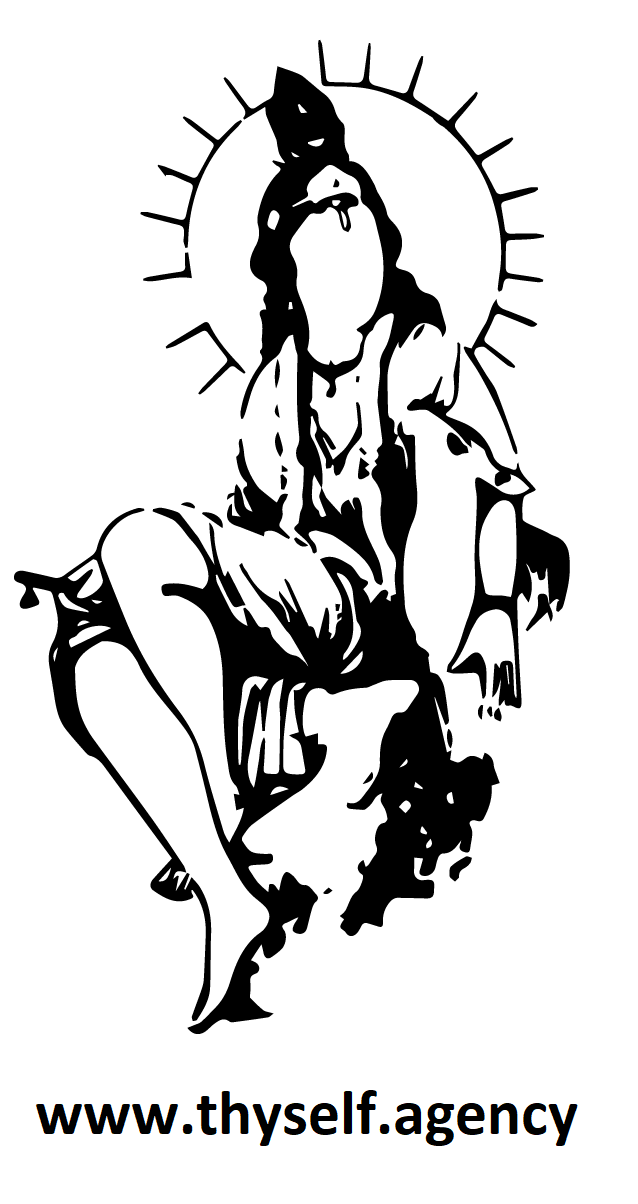 Can you tell me how the Thyself Agency project started and how and with whom the first life exchange took place?
The idea was born in 2011, when I exchanged my life with Jorgen's, I was in Beirut and there I carried out this first life-exchange experiment. The intention was to physically face an idea and go beyond the representation making it live through my daily actions.
Continuing my research, I have experimented with other ways to subvert my beliefs and try to give birth to ideas that don't exist, by doing actions both in private and public life. But it wasn't clear to me how to live with these ideas and keep myself sane, and peaceful, as I couldn't distinguish myself from what had been induced on me, I was afraid I was never lucid. After years things no longer worked, I lived in contradiction with myself, and my work as an artist seriously bored me. But it wasn't the work that lost its meaning. Then came the pandemic, a blessing for me. I'm sorry I had to wait for a dramatic situation to find new motivation, but that's how it was. Suddenly my priorities changed, and from the bottom where I was, I started hearing a different melody. I was lucky, the secret tears of my heart traveled and came back to me in the form of a proposal. I started teaching Performative Techniques at the IED Aldo Galli Academy in Como, here it was the end of 2020, and the students were the first candidates for the Agency. The school course itself is the Agency and we used the classroom as a base of operations for the experiments that took place outside, especially life swaps. The idea of creating an anthropological laboratory connected to the school fits perfectly with the values I have in mind. I also wanted to take it outside and extend it to the free society, but whilst speaking with people I didn't find the desire to do so, so my partner said to me: Let's exchange! All right my love. I thought it would be a softer experience, we already shared the house and many aspects of our lives, a sweet treat. False. With Emma it was the most intense exchange, I always had the pact in front of me. There have been other interesting experiments: Fabiola has exchanged with her dog, Andrea has developed a sort of time travel, returning to live as he lived 15 years before, Nik has done an exercise with his already existing alter ego, Elisabetta and Qinwen have come to unprecedented conclusions, it is truly an adventure that has taken my soul. All these reports are now collected on the Agency's website. They became a long story in many different languages, study material I deepened with audio interviews made with the candidates before and after the exercises, full of amusing and surreal anecdotes, and unexpected revelations. For example, the one between Ludovico and Alexa talking to each other just after the exchange we discovered that they had the same dream during the experiment. Two candidates had the same dream during the experiment. The bizarreness of these stories needs no fiction. It is exactly what it is. By upsetting our daily life we are experiencing states of consciousness different from ordinary perception, we access the germinal and archetypal scheme of reality. Through our expeditions into the unknown, we are looking for the essence of being and we look for it with a practical, artisanal, sometimes homemade approach. As if it is a lost object. Even better, a blurred memory. A feeling hovers over all experiences, something ineffable, something we have experienced, which still does not find a clear definition and to which the participants have given a name: Thy.
Can you explain better what this THY consists of? Does it have to do with the "essence of being" you were talking about earlier?
I don't think I can explain it, I can give you some examples. While I was exchanging with my partner I was sitting on the bed, on the new side, I was looking at the wall and suddenly all my concentration shifted behind my left shoulder, for a moment I knew everything, but then it escaped me. Ludovico told me that living in Alexa's shoes, with her boyfriend who took him around on a motorbike, to train, telling him about their travels, he understood what love is by living in another person's life. Nik had alter egos, personalities that emerged causing him to completely change his behavior, by doing the exercise the alter egos disappeared. Qinwen when we first met had many doubts, she asked me: How can I exchange everything? If I die tomorrow, how can I exchange death? A month after the exchange, she said to me: Luca, exchanging myself I found God again. These examples are not Thy but reports of something that happened. Possible routes.
When you talk about the Agency, you describe this project as an experiment capable of giving a method. What do you mean?
I don't want to describe the possible skills, I think there are still many I don't know. I'm describing facts to you, things that have happened. I can tell you about my intentions and needs. I desire to find a safe harbor during a flood of content. To promote the best possible learning I had to refer to precise values, shared with people I trust, and declared between us. The method derives from these spiritual values, they emanate it.
Which spiritual values do you mean?
Once a person told me that the word "spiritual" would make the Agency look like a sect. I think our society is made up of sects, in communion or contrasting with each other. The system itself is structured like a cult and demands loyalty and devotion to its values, for example to money or profit. It's the same for work, to which many choose to devote themselves by being exploited physically or mentally or, precisely, spiritually. These are mechanisms of psychic power, the only power that interests me is what I have over myself. The spiritual values that inspire me while I perform the exercises arise from the profound honesty necessary to perform them while I share them with others. To recognize me and my role. They are very practical things, like all spiritual things. They are an expression of life and of what generates it.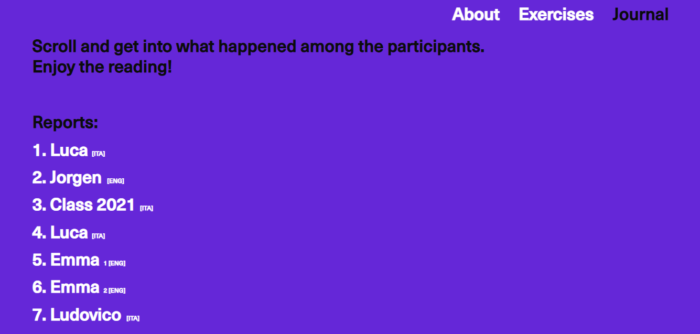 Can you tell me about the experiences of other candidates who have made use of these "services"? What were the difficulties and discoveries in dealing with this experience?
We are lucky because the participants wrote their experiences and they can be found on the Agency's website. I would not add anything else to their words. I can only bear my testimony. What we have discovered is the method, which is refined with each exercise performed.
It is very simple, it generates a positive trauma and an inebriant suggestion. We are trying to break free from addiction, to go wild following the spiritual values that we intuit but can no longer feel. We fight confusion and seek for lucidity as a form of power over ourselves. What exists beyond our being but which nevertheless continues to belong to us, is the audacity of our sensibility: the only property we want to defend, the only property we want to die with, the real non-consumable richness which we want to haggle with. It's nothing new. We continue the line that so many artists have inspired, today and yesterday. I would like to quote the heretics of old Europe, they screamed "Omnia sunt communia", now in the land of their enemies we daily free ourselves from superstitions with intuitive homemade exercises. We don't believe in personality, we don't believe in a single reference narrative, we don't believe in the values of competition, the limits of our bodies are not the limits of our identities. I could go on for slogans for much longer. But I just say that the feeling we're chasing fills me with joy and I call it Thy.
I'm very impressed by your statement: "the limits of our bodies are not the limits of our identities", I understand it but at the same time it escapes me. It is a very current consideration. What do your students think about these experiments?
I recently started a new laboratory, with a new class. I'm refining the details and I see that the experience is always different. It changes over time and makes me think of another sentence: freedom is the content, necessity is the form. The experiment not only lets you step into the shoes of others, but allows you to get to know yourself and find a common meeting place between the self and the other. It also makes participants discover alternatives to their own lives. Yesterday we started a collective writing of the "Persona Lists", so the experiment begins to become active.
What does it consist of?
The Persona Lists are pre-compiled lists that are delivered to the participants before starting the exchange, they contain various items, which are perfected with each experiment thanks to the contribution of the previous participants. These lists are the key to getting into each other's mechanism. They must be compiled with love and awareness making the image of oneself accessible. It is advisable to enter any information useful for the use of one's own life. Usual manners, habitual consumption of money, and food and hygiene habits could be good suggestions, but only the participants know what to write. They are instructions to be handed over to the other, but not only. Together with the Agency, they are the amulets that watch over the exercise and the pact that is stipulated primarily with oneself.

Reflecting on the exercises proposed by the Agency, I think that these, in particular "Life Exchange", aim above all to make oneself known, almost in essence. The commitment is to make the person with whom I exchange my life understand the aspects of everyday life that make me who I am: gestures, habits, automatisms. But, once these "existential attributes" are identified, I ask myself: What remains of me if I take these things away? What makes me who I am? Maybe once we get to this ground zero, to the essentials, it will be possible to find the other within a common territory, naked of all those accidents that make up our lives and make us different and similar beings from each other. Maybe.
Exactly, maybe. When we are pervaded by the new sensibility that I have seen appearing, when we soak it in the world, when new mental structures have freed us from the useless ballast, then maybe the word "diversity" takes on a new meaning. A new role. Reality is one, diversities are there to remind it.
One of the most interesting things about the Agency is the Journal published on the website, which you mentioned earlier. It is a diary that collects reports written by the participants. It is through reading them that the depth of this work becomes palpable, as well as the impact that the experiment has on the life of each participant. Would you like to tell me something about the reports that most impressed you?
The Journal is becoming a long story written in the languages of those who participated. Italian, English, German and Chinese for now. I find them all fascinating, and I joyfully learn from them, try reading this by Ludovico, report #7: " […]Now if I think of Alexa I also think of myself, I feel that we are linked by a sort of secret, which bound us intensely every day that passed during the week. I learned to be her, to follow her days, to talk to the people she meets every day while she goes to school. Knowing another person's habits leads to delicately considering your own, and in my case to better recognizing the knots of my daily life. I could start by telling you about my first encounter with Andrea, the Virgil of this story. Andrea is Alexa's boyfriend and for me a guide toward full awareness of what it means to be Alexa. For what he was for me and what he will be for Alexa, he is an important figure who supports her typical day most of the time. Living together and having the same passions led us to live a week in close contact and full of activities to do together. I was able to experience a mature and respectful love for a week, a feeling that I hadn't felt in my life for a few years and that as a first reaction I experienced as a destabilizing moment with who I am like Ludovico, melancholic thoughts of the loves I've lived resurfaced and made me think like Ludovico. But Andrea has always managed in a way or another to bring me back to the here and now and to think like Alexa, I don't know if he noticed it or it came naturally to him, but he always manages to make me feel at ease in the discomfort of not being. […] "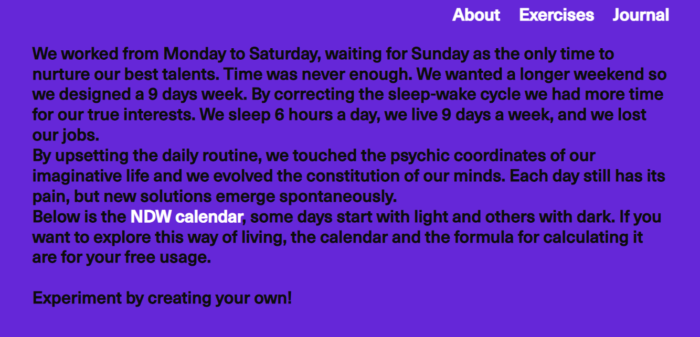 Earlier you told me that a Life Exchange was made between a human being and a dog. Can you explain to me how this experiment worked out?
Yes, amazing. This experiment arises from the impossibility of doing otherwise and ends with a new impossibility. I refer you to Fabiola's report, it is # 10, read it, it's beautiful. "[…] You were my first choice: I've always wondered what your life was like in the forced routine of our days and I wanted to try it on my skin, atoning for what I'm forced to do and trying to understand something more about you. For a week I ate according to your schedule: rice and beans in the morning at 7.00 as soon as I woke up and always rice and beans in the evening at 20.00, avoiding anything else during the rest of the day. I had the portions ready-made and frozen, prepared all in one go using the same ingredients as your feed. So every day it was enough for me to defrost and reheat a portion.
I also limited myself in bodily functions, trying to respect your schedules as much as possible. In the evening when I returned home I always tried to give priority to your needs rather than mine: I was the one who held back and waited for your times, not the other way around, as often happens. […]"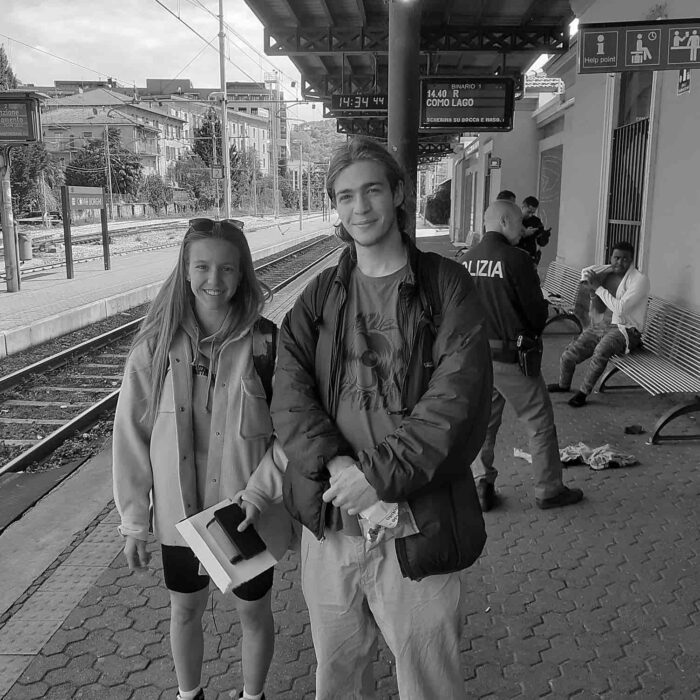 You and Emma Rose Hodne have exchanged lives twice, the last time the exchange took place in the apartment where you live together. Not only did you swap lives, but you lived through the duration of the experiment with the person who was living in your shoes. You saw her living your life, and vice versa she saw you living hers. How was it and what did it teach you?
LDL: It was very deep, intense, tiring, and unique, I learned. I saw the Thy, something that is not to be understood, it was already there, Emma and I found ourselves open. We were at the root of the cosmos.
Emma Rose: Perceiving my life out of myself, made me get closer to my personal defects, as I couldn't control the behavior I had left Luca to live, watching him not following up on what "I" would have done in my shoes, his, I discovered myself controlling, which I aim to release. Other than that the intensity of being while not being, gave me the sensation of purity, a nakedness that always carries my skin, it's always there, we call it Thy. If that's difficult, we might find it liberating to imagine, even contemplate it as the mother of freedom.
If I told you "Je est un autre" what would you answer?
I believe in the practice and philosophy of what we have agreed to call magic, in what I must call the evocation of spirits, though I do not know what they are, in the power of creating magical illusions, in the visions of truth in the depths of the mind when the eyes are closed. That the borders of our minds are ever shifting, and that many minds can flow into one another, as it were, and create or reveal a single mind, a single energy. That the borders of our memories are shifting, and that our memories are a part of one great memory, the memory of Nature herself.
Simona Squadrito
is a critic, editor, independent curator and author of publications on contemporary art, teaches theories and practices of the contemporary at IED in Milan and creative writing at MADE Program – Accademia di Belle Arti "Rosario Gagliardi" in Syracuse. She is the co-founder of REPLICA, an Italian artist's book archive, and KABUL magazine, a cultural association, an independent publishing house and a contemporary arts and culture magazine. From 2015 to 2020, she was the director of the Villa Vertua Masolo, a civic museum in Nova Milanese.
Luca De Leva
(1986), is an artist who lives and works in Milan. He studied at Brera Academy of Fine Arts in Milan and at HGB in Leipzig. He currently teaches Performative Techniques at IED Aldo Galli Academy in Como and is a service agent at Thyself Agency. Among solo shows:
www.thyself.agency
at Pinksummer, Genova;
È stato bello pensarti
at ADA, Rome;
Hai paura dell'uomo nero?
at Museo Burel, Belluno;
Chronicles from another eye
, performance, Castello di Rivoli Museum of Contemporary Art, Rivoli, Turin;
Blarney 5×3
, performance, Almanac Project, London;
ThySelf Talk
, Zico House, Beirut.