Sara Alberani, Fields, Castelbolognese (Ravenna), 2023. Courtesy the author.
A Desert Of Water
Part 2 – Bodies and territories emerging in alliances for future survival on this planet
Between May 2nd and 17th 2023, Emilia-Romagna was hit by a series of events that generated flooding and landslides in 44 municipalities, mainly in the provinces of Ravenna, Forlì-Cesena, and Bologna. The heavy rainfall, that fell in 48 hours almost in the same quantities as in a full year, caused 23 rivers to overflow and a thousand disruptions and landslides. Fifteen people died and almost 30,000 have been displaced and evacuated. The damage was estimated at around 9 billion. The government allocated 2,5 billion, while several weeks after the event an emergency commissioner with no connection to the territory was appointed with serious delay during the reconstruction phase. So far, the funds have not reached either the local administrations or the affected inhabitants yet.
The flooding has been described as one of the greatest climatic disasters of recent decades in Italy; in a region that suffers severe drought periods due to high soil consumption, the effects of intensive agriculture and livestock farming, along with cementification, have progressively limited the land's capacity to absorb water and rivers' flow.
About four months later, this story—that was written right after the events—tells the direct experience of the flood that affected my hometown, our homes, my family and friendships, and all the inhabitants who are still struggling to survive, in the name of climate justice and against the effects of global development. The intention is not to become invisible, fuelling debate and action towards the future, starting with sharing our trauma and emotions as a community affected by the environmental disaster.
This is the second and final of two chapters. Read the first part here.
As soon as I took the train back to Rome, I felt I was starting over as usual. As if normality had been achieved and restored as soon as possible, as if nothing had changed although everything was turned upside down. But wanting to "continue as usual" and relying on "normality" are common strategies of distraction. My train came from a place where the climate crisis is happening at a very tangible level. This is not an exceptional episode, and certainly not bad weather or a natural disaster, as the government claimed. The funds allocated for the damage caused by the flood in Emilia-Romagna will go toward reconstruction as it was before, even though they are completely insufficient for the present situation. Future floods and landslides will find the same landscape unprepared to receive them. Resistance, adaptation, resilience and care, that is, the long pact between territory and the peasant society that has designed the thousand canals, rivulets, small streams and rivers of Romagna has been shattered by the intensity and violence of industrial development. Within a global climate war that is being waged precisely on the sacrifice of territories and its communities, the solutions for facing climate collapse still depend on a language that does not recognise individual episodes as a phenomenon, and does not connect them together, and refuses to join the dots of an announced future.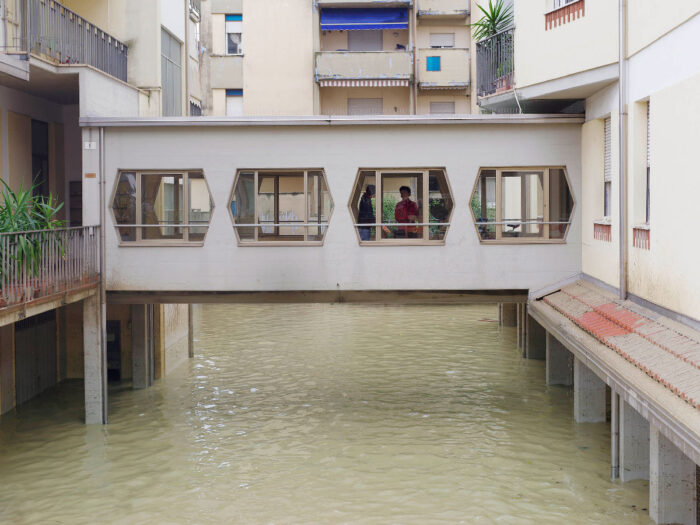 To date, up to a maximum of 5,000€ has been earmarked for each household that has lost its belongings in domestic spaces, funds that can only be claimed after they have been spent. While no reimbursement has yet been allocated for those affected in the outbuildings, i.e. in garages, cellars, basements, ground floors, courtyards, gardens, including cars and vehicles, where most people have been flooded with enormous damage. Insurance companies do not cover "natural calamities" unless you have taken out very expensive policies. This justifies the anger caused by feeling obliged to have funds set aside to be able to live in one's own home and to own some means of transport. Can living be considered a form of privilege?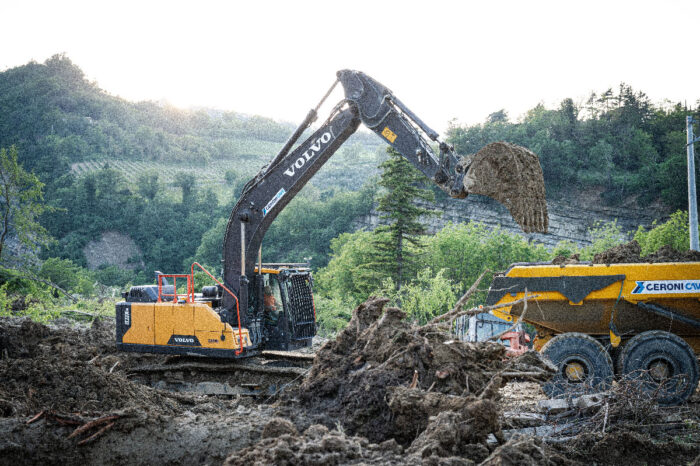 As I write, I am in my hometown, Castelbolognese, where, almost four months after the flood, there are no longer piles of affection to be thrown away outside the window, the smell of mold has taken refuge in dark corners, and the brown line that marked the water level has become solid paint, embedding an eerie, dull edge. Were it not for a faint, vague clay color everywhere and dissonant elements such as abandoned piles of mud, broken objects emerging from courtyards, and dry brushwood stuck in driveway nets, one could say that not much has happened. The houses are quiet, the street is no longer an extension of cellars and garages—our domestic spaces are empty and inanimate, with a few piles of brown objects hopelessly waiting for their destiny. With a lot of effort, I try not to look when my niece approaches these things she cannot place: not toys, not rubbish, not furniture either. As if they are bearers of a faith I would never want to happen to her. I try not to look at my father either, who fixes and touches unreal objects like a presence without physicality, and only their wrappings remain.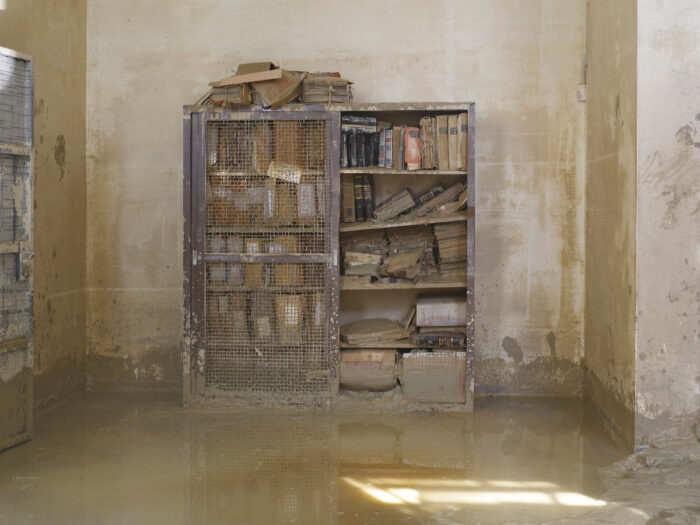 The effects of the flood pervade our everyday life like a blank noise, a malaise that involves inexplicable, agitated, and compassionate behavior. Things to be repaired stand still because they have lost their functions, cars are parked remembering the roads that were not flooded, family relationships are frayed by gestures we can't control: we argue, we isolate ourselves and there is very little space for a full healing of the previous flood, because we're waiting for the next one, with our bodies exhausted by the weather warnings.
A few nights ago, a heavy thunderstorm arrived and I woke up sure to find the street flooded again. I checked on my parents' sleep as if our house was no longer a safe place; my body was shaking, with no visible danger. The image of our neighbor's house haunted the street, imprinting a now invisible presence, flowing down the stream.
I recently walked with my mother along the river beside our house. The fences are still torn up and mark the height of the water still capturing objects, waste, plants in the nets. The vegetation has grown haphazardly, but it is possible to glimpse along the banks the remains of hundreds of trees felled, cut down by bulldozers and left to wither through branches, leaves and thousands of indistinct bodies of vegetation exposed to the summer heat.
The river is low and flows heedless of the banks that have been turned from trenches into chasms. The fields behind them are furrowed by some solid and irregular volumes, like an infinite clay crevice waiting to awaken from a torrid summer afternoon, with no life on the horizon. As we walk we are crossing the five points where the river has overflowed, expanding its limit toward us. If heavy rain came now, we would find ourselves in its bed, without any shelter, with nothing having been repaired to date. From one of the broken levees we can see our house in the distance, like a straight and precise trajectory aiming at a very plausible target.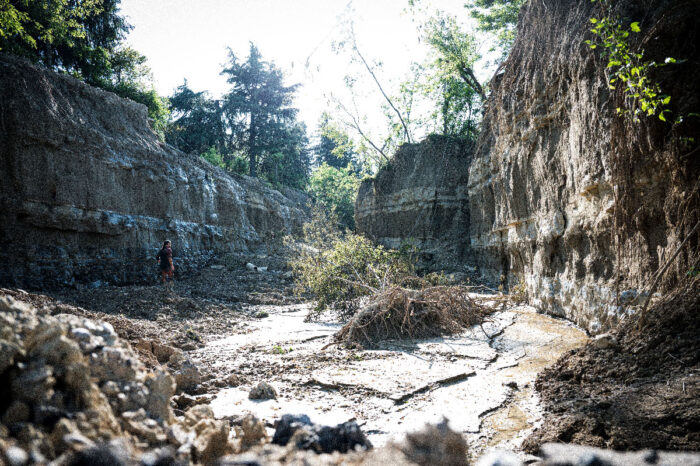 The agony of the river landscape reflects my family's, like a symbiosis. We too hang on with little hope, and do not know what to reply when someone asks—has the situation improved? So as not to alienate those interested in our plight, we answer—it's better! Repenting an instant later for a lie we cannot confess, feeling like impostors within a capitalist system that is more efficient without us, grounding its prosperity on the removal of events it cannot encompass. So, how do we continue to live within the crisis, and the turmoil, recognising them in order to survive and not to die out? How to create alliances for the exchange of knowledge between fragile and sacrificial territories, especially in the Global South? How to heal from the collective trauma and ecological anxiety of those who have been exposed to glimpses of environmental disaster?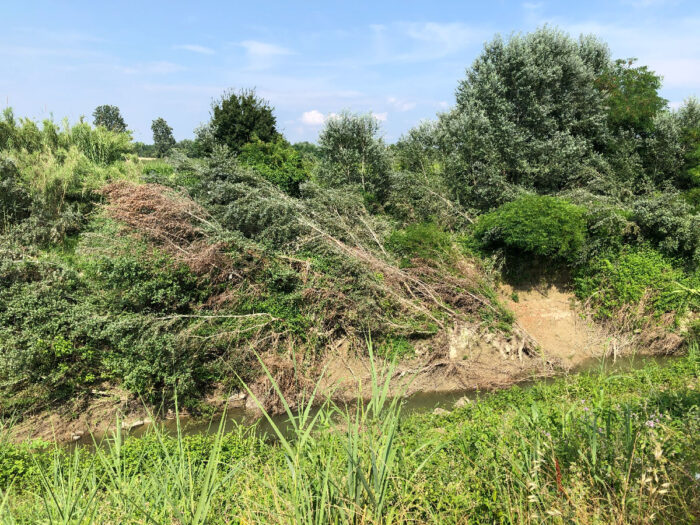 Maybe I don't want the water to recede so fast, maybe we need to make more room for it. My dreams remind me of this, with storms over houses without roofs, beds that sail with people sleeping on them, schoolyards and public squares from which gushes of water that are impossible to see come out, and swamps disguised as swimming pools, one can no longer get out from. Landscapes of anguish need to be heard, because the weight and the responsibility of the climate crisis cannot be borne alone, first and foremost not by those who have suffered it. Our role within society cannot be that of unheard agitators, of visionary and annoying presences because they carry the tremors of disaster on their bodies, of subjects who must be healed or helped— through gaslighting techniques—to remove the traumas of a collective future. We need to recognise eco-anxiety as the healthy reaction to the destructive effects of climate collapse, we need to make room for emotionality as a catalyst for urgent actions of civil disobedience, countering the effects of global development, knowing that not acting means extinction. [1] We need to talk about solidarity and alliances, rather than aid, to be dedicated to climate disasters with permanent and vigilant programs, demystifying those put in place by governments and private interests. No more time.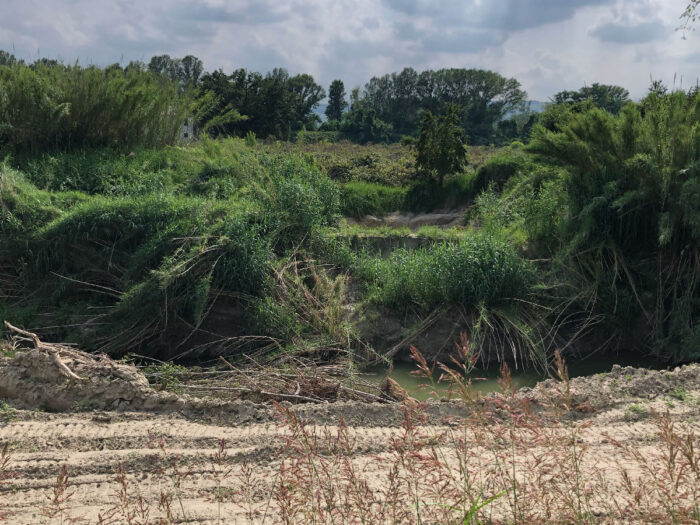 Outside the West, there are already expendable territories for the logic of capital. In 2022, according to UNHCR, 17.2 million people were forced to flee due to destructive climate events. The Global South and the most climatically vulnerable territories are home to 84% of the world's refugees. The climate-exposed territories are also those where conflicts often erupt, where there is uncontrolled extractivism and where struggles over resource grabbing and racial, gender, political persecution are most frequent.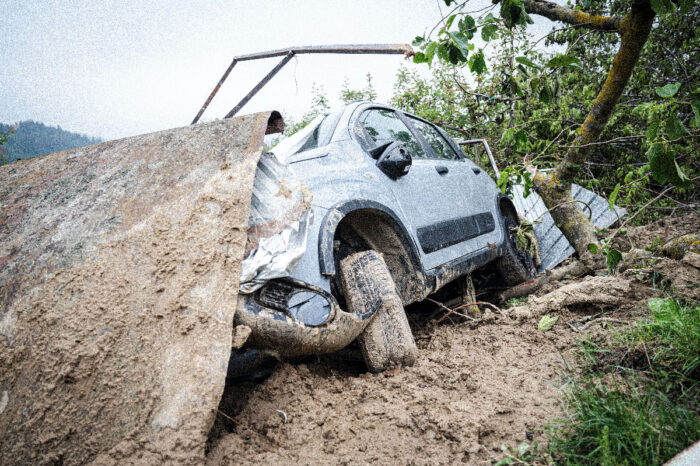 The disastrous flooding a few days ago in eastern Libya, in particular in the city of Derna, has already brought the toll to 10,000 victims, striking in a territory tried by wars, intensive exploitation of resources, and international agreements that encourage detention camps, imprisonment and torture of thousands of people ready to leave for Europe. The same Europe that, through criminal agreements, finances local governments to take responsibility for not letting them leave, for letting them drown along the Mediterranean route, operating politics of death through the rhetoric of aid for development and cooperation.
But the climate crisis is like water, it expands regardless of how safe we feel, in Europe as well. We therefore need a process of social and political transformation, because if the issue of death—linked to that of neo-colonialism and capitalism—won't be addressed, there is no way to produce something that is not permanently destructive. There is an urgent need to unite the struggles that are seemingly distant only on the surface, such as climate justice, the right to housing, the right to migrate, the fight against gender violence, and the rejection of war. In practice, how to create common ground for all those movements that are fighting against death, refusing to obey genocidal and ecocidal policies?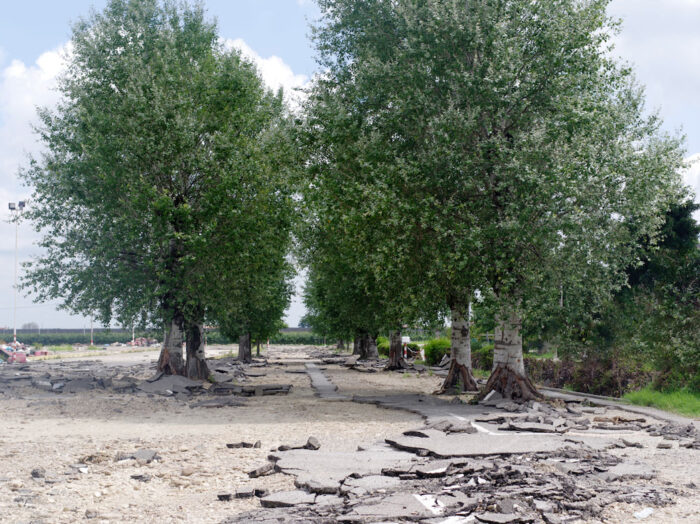 During a conversation on Climate Migration, Abandoned Lands and Social Responsibility at the transfeminist space of Lucha y Siesta in Rome, moderated on behalf of Mediterranea Saving Humans, we shared the practices of the many invited artistic, activist, eco-agricultural communities such as Barikamà, Cooperativa Co.r.ag.gio, Gront Marked, INLAND – Campo Adentro, Ultima Generazione. Among others, the discussed topics were self-determination and dignity for the conditions of workers along the agri-food chain, abandoned land and the responsibility of eco-farming communities in the cultivation of environmental biodiversity, the coexistence of agricultural and urban land, sustainable distribution models and non-violent actions for climate justice.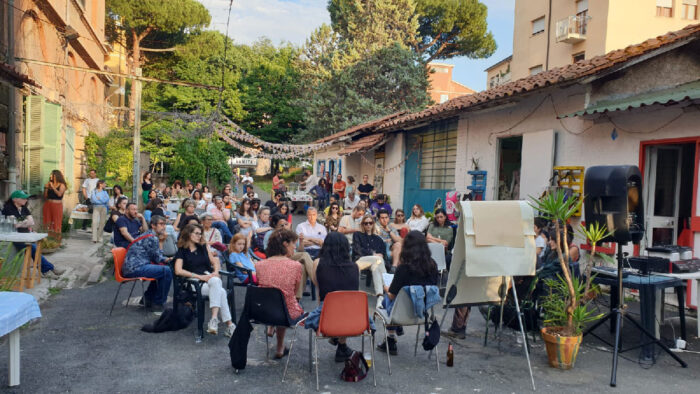 Within these practices that put reparation, collective organization and solidarity at the center, mourning emerged as a constant—a mourning we are used to consuming alone. We mourn in our beds at night, unseen, holding ourselves strong during the day, with tireless work of actions, initiatives, and courage. Floods inside and outside Europe, the shipwrecks in the Mediterranean, and the many events that shake us through loss need first of all elaboration, reparation and actions that jam the mechanism of the invisibilization of death, a mechanism our neo-liberal societies feed on. For the right to life Mediterranea and the Civil Fleet organizations put boats out to sea and act around rescue and against the criminalization of solidarity. For the same right, Ultima Generazione glues itself to works of art and defaces monuments and institutional buildings, making visible how much the concept of conservation holds sway in the sphere of heritage and is absent in the face of a mass extinction no Botticelli's Venus could outlive.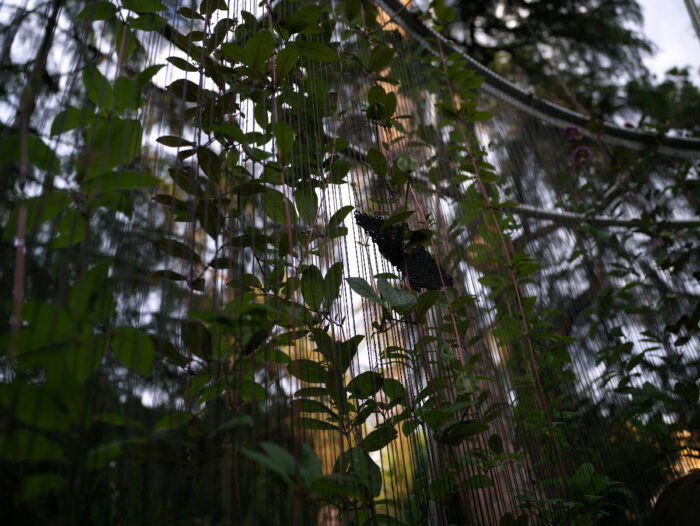 Together with architect Alfredo Thiermann, in residence at the German Academy in Rome, a few months ago we convened a conversation about the Chilean Pavilion at the 2022 Venice Art Biennale, entitled From Aesthetics of Extinction to Aesthetics of Conservation. At that time, the words extinction and conservation produced a different sound in my body. In the Chilean Pavilion Thiermann was a part of, the aesthetic question was related to the non-visible, to what must remain hidden in the peatlands of Patagonia, because it works underground contributing to the balance of the ecosystem, and requires an even greater effort to be conserved. For the same factors of invisibility, the wetlands and the indigenous Selk'nam community that inhabits them have been declared extinct, contributing to the extraction and colonization of the land, as if it were no man's land.
A few months later, the structure of the—otherwise destroyed—Pavilion lives on in the gardens of Villa Massimo as Panorama delle Api, inaugurated with the talk On Plants and Planets, I had the pleasure to take part in, with philosopher Emanuele Coccia and Alfredo Thiermann. It is an installation woven by artists Michelle Gravel and Johanna Unzueta to house the Cobea Scandens, an apparently common plant with a migratory past from South America, bearer of numerous curative properties and the indigenous knowledge associated with them. This new ecosystem is the fruit of daily work, of an interspecies pact between humans and plants: as the seeds grow, the structure prepares to host them, to elevate them through a patient grid that creates a space mitigated by leaves and branches. In the Panorama delle Api, we work vertically and plants climb to seek light and attract insects. Cobea Scandens blossoms visibly, makes itself seen and reproduces quickly, runs along the paths we have woven to make us look up.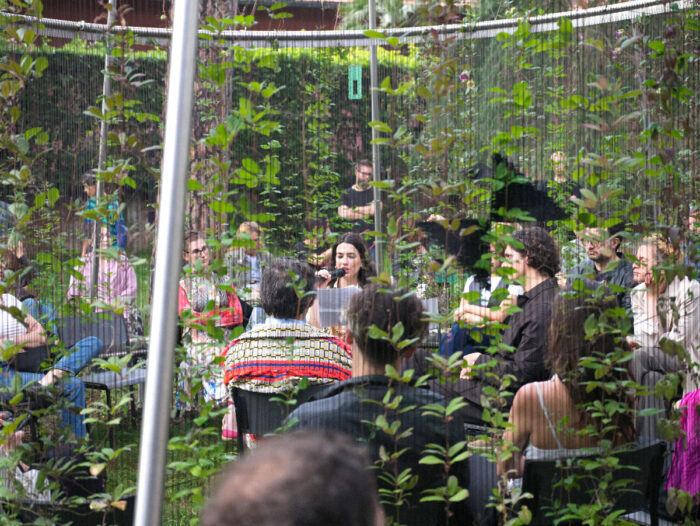 As we experienced a world that went two meters underwater, the plants showed me an ecosystem of survival where their long branches worked in alliance with animals that would find shelter there, humans included.
They reminded me how the turtles in our garden collaborated with the ivy and we found them climbing with their necks out of the water, how the ants built tunnels from underground to resurface with chewed up grains of earth stuck together to form towers, how the tomatoes in dad's garden organized themselves to move their roots a little higher up, above the mud. Perhaps these are the most tangible answers as to how to recover from an environmental disaster and how to create alliances and future solutions for survival on this planet.
[1] 61,672 heat-related deaths in Europe in 2022, of which 18,000 in Italy, the first country in Europe. Nature Medicine report, July 2023.
Sara Alberani
is an independent curator and activist based in Rome. She expresses her curatorial research in socially engaged art practices concerning communities and public spaces, focusing on long-term projects. Since 2019, she has been part of the refugee justice community centre Trampoline House in Copenhagen, and she has been curator for the collective's participation in documenta fifteen. Since 2020 she is co-founder of LOCALES, a curatorial platform for the production of site-specific interventions and decolonial practices within the public space of Rome. She is an activist for the civil society platform Mediterranea Saving Humans, in Rome.